Chinese movie 'Home Coming' grosses over 1.31 billion yuan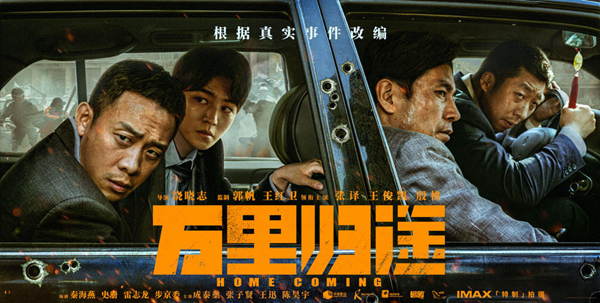 The film "Home Coming", adapted from an actual event in Libya in 2011, was released during this year's National Day holiday and depicts what happened behind the scenes during the evacuation of Chinese diplomats from a fictitious country.[Photo/Mtime]
  In the 41st week of 2022, the total box office of mainland films reached 230 million yuan (about $31.92 million), according to the data released by Maoyan – China's top movie-ticketing platform, down nearly 80 percent year on year, and the market was still largely occupied by older films, as there were no new releases.
  The top five box office hits of the week were released during the National Day holiday and Mid-Autumn Festival: "Home Coming," "Ordinary Hero," "Steel Will," "Give Me Five" and the animation "Yang Jian," which was released in the summer.
  After 20 days, "Home Coming" still leads the market, grossing over 1.31 billion yuan at the box office. It is set to be released worldwide, starting October 21.
  The film, adapted from an actual event in Libya in 2011, was released during this year's National Day holiday and depicts what happened behind the scenes during the evacuation of Chinese diplomats from a fictitious country.
  Director Rao Xiaozhi said during filming what moved him the most were the diplomats who evacuated the Chinese in real life.
  "They are ordinary people in life; they are fathers, husbands and sons, but their duties require them to be on the front line," he said.
  "A diplomat can't use force; what kind of method did he use to bring so many people from a war-torn country back to our own country safely? The process must be full of various dangers."
  The film created a "new hero image" – someone who would hesitate when making life and death decisions, who would make the painful choice between his country and his family and who has realistic considerations for ordinary people. The depiction in the film is very convincing, and based on its ratings, it has moved many viewers.
  A total of 225,000 people gave the film a score of 7.4 out of 10 on Douban, China's major movie rating platform.