HK confident new Party leaders will chart fresh successes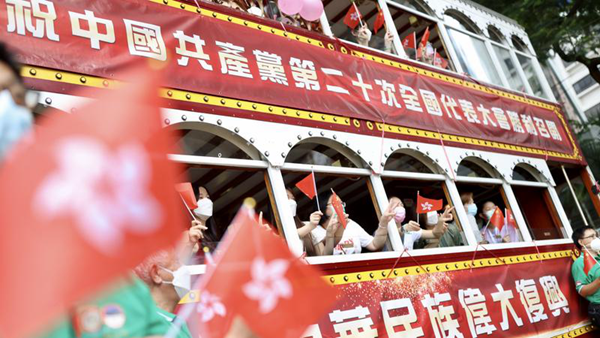 Members of the Hong Kong Tramway workers union wave miniature national and Hong Kong SAR flags from a tram at the Whitty Street Terminus in Sai Wan to celebrate as the Communist Party of China opens its 20th National Congress on Oct 16, 2022. [EDMOND TANG / CHINA DAILY]
  Hong Kong political and business heavyweights on Sunday congratulated and expressed confidence in the newly-elected central leadership of the Communist Party of China, saying the nation can now chart a fresh course towards great rejuvenation.
  The response came after the seven newly-elected members of the Standing Committee of the Political Bureau of the CPC's 20th Central Committee, led by General Secretary Xi Jinping, made their debut in the Great Hall of the People in Beijing.
  The seven members of the Standing Committee, elected at the committee's first plenary session on Sunday, are Xi, Li Qiang, Zhao Leji, Wang Huning, Cai Qi, Ding Xuexiang and Li Xi.
  The Hong Kong Federation of Trade Unions described the newly-elected Party leaders as "seasoned, visionary, pragmatic and enterprising".
  The federation said it's convinced they're capable, with the resolve to build a modernized socialist country and embark on a new journey of great rejuvenation.
  The Hong Kong Chinese Importers' and Exporters' Association said the new team, with Xi at the helm, will steer the nation's future development, and move steadily and quickly towards realizing its second centenary goal.
  Lawmaker Stanley Ng Chau-pei, who's also a Hong Kong deputy to the National People's Congress, pledged full support for the new leadership and to uphold the full implementation of the spirit of the CPC's 20th National Congress, as well as "one country, two systems", so that the special administrative region can share the glory of being part of the nation's new journey towards great rejuvenation.
  Maggie Chan Man-ki, founding president of the Small and Medium Law Firms Association of Hong Kong, said the successful election of the new leadership has given confidence and hope to the people, showcasing Chinese wisdom under Chinese modernization to the world.
  The new team has held together the Party's strength, the country and its people, while stressing it is "acting for the people and relying on the people", she said.
  The Democratic Alliance for the Betterment and Progress of Hong Kong said the well-being of Hong Kong residents has always pulled at the heartstrings of the new Party leaders, with Xi at its core, and Hong Kong's transformation from order to prosperity is an important step in the nation's governance.
  The DAB said the city should position itself and seize the opportunities to integrate into the nation's development in accordance with the CPC's 20th National Congress' guiding principles for governing Hong Kong.