Steps vowed to curb separatism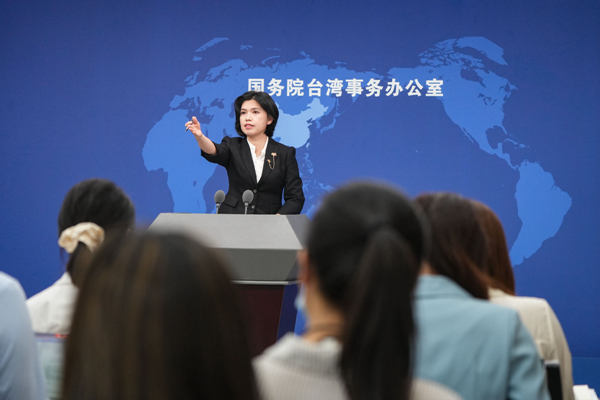 Spokesperson for the State Council Taiwan Affairs Office Zhu Fenglian gestures at a regular press conference in Beijing, Sept 14, 2022. [Photo/Xinhua]
  Pledges to safeguard sovereignty voiced at conference on cross-Straits relations
  The current situation across the Taiwan Straits remains severe and complex due to the island's ruling Democratic Progressive Party colluding with some forces in the United States to seek the "independence "of the island, officials said at a conference on Wednesday in Beijing on cross-Straits relations over the past 10 years.
  Qiu Kaiming, director of the Research Bureau of the Taiwan Work Office of the Communist Party of China Central Committee, said the DPP authorities on the island adhere to the secessionist position of "Taiwan independence" and collude with external forces in making provocations for "independence".
  Meanwhile, some forces in the US, motivated by a hegemonic mindset and a Cold War mentality, have intensified their efforts to use Taiwan to contain the development of the mainland, Qiu said.
  The DPP has been promoting the idea that "the two sides across the Straits should not be subordinate to each other", and the US has been obscuring and hollowing out the one-China principle for its own political gain, he said.
  "Such actions attempt to distort the nature of the Taiwan question and deny the one-China principle," he said, adding that these would end in failure.
  Zhu Fenglian, a spokeswoman for the office, said at the conference that US House Speaker Nancy Pelosi's visit to Taiwan in August, which took place despite strong opposition from the mainland, was a serious escalation of the collusion between Taiwan and the US and sent a severely wrong signal to separatist forces.
  "We strongly opposed such an act and took a series of resolute measures to counter it," she said.
  The mainland will, in light of changes in the situation, introduce more legal measures to contain the "Taiwan independence" separatist practices to safeguard the country's sovereignty, security and development interests, she added.
  Ma Xiaoguang, a spokesman for the office, said that peaceful reunification and "one country, two systems" are the mainland's basic principles for resolving the Taiwan question and the best approach to realizing national reunification.
  "In designing the specifics for implementing 'one country, two systems', we will give full consideration to the realities in Taiwan and the views and proposals from all walks of life on both sides, and fully accommodate the interests and sentiments of our compatriots in Taiwan," Ma said.
  Once peaceful reunification is achieved under "one country, two systems", it will create huge opportunities for social and economic development in Taiwan and bring tangible benefits to the people in Taiwan, he said.
  Ma said that after reunification, Taiwan may practice a social system different from that of the mainland.
  Many problems that have long afflicted Taiwan's development can be resolved through integrated cross-Straits development, with all possible connectivity between the two sides. In addition, Taiwan's fiscal revenues can be better employed to improve living standards, he said.
  "The people in Taiwan will enjoy greater security and dignity and stand upright and rock-solid in the international community," he added.