Tech provides an uplifting experience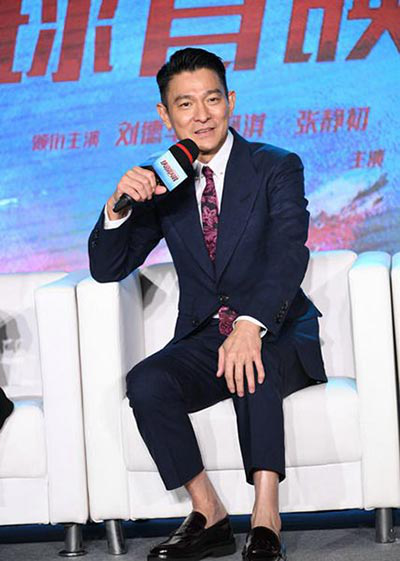 Andy Lau shows up for the first time and speaks at the premiere of his new film The Adventures in Beijing, Aug 8, 2017, after six-month convalescence from injury. [Photo/China.org.cn]
  Hong Kong superstar Andy Lau's online concert on Sept 3 set a new record, with 350 million people watching it on the livestreaming platform.
  Even at the age of 61, Lau's appeal is no less than that of a younger generation of stars. Credit for this goes to his clean record. He has never been linked to any scandal in his private life or in money matters.
  This is significant at a time when many brands have dropped Li Yifeng, a domestic actor with a huge fan following, from their advertisements after the Beijing police detained him for soliciting prostitutes.
  In contrast, Lau has been participating in public-interest movies. In 2015, he starred in Lost and Love, which rallied society's attention behind the abduction of children and helped multiple government departments to crack down on the crime in a bigger way.
  Lau's personal influence apart, the tendency of using modern digital technology is increasingly more evident in concerts. More than two years into the COVID-19 pandemic, increasingly more concerts are going online.
  Online concerts have the advantage of accommodating unlimited audiences and giving the same experience to anyone watching it on a smart gadget. The huge audience size even helps bring down logistics costs. Modern technology will also ensure better signal quality for online concerts, while new technologies such as virtual reality or augmented reality can make the experience even better.
  After years of attempts, online concerts have emerged as a new platform for stars and audiences and become the breeding ground for new ideas, new technologies and even new stars. It is time traditional concerts make use of technology to serve audiences better.
  Of course, technologies are just a set of tools and what is equally important is a good-quality performance. Lau has set a good example by performing well with his abilities and impressing audiences. More good concerts should follow this new model, serving the public better.