English version of HK chronicles launched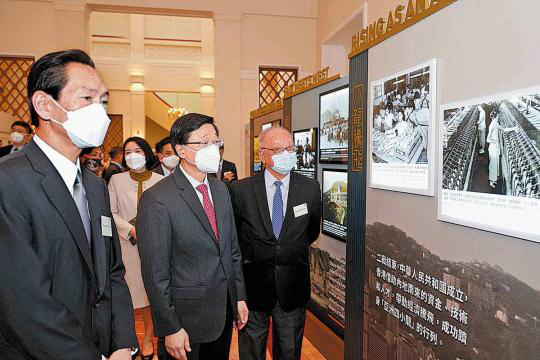 Hong Kong Special Administrative Region Chief Executive John Lee Ka-chiu (center) visits an exhibition at Government House on Wednesday during the launch ceremony of the first volume of the English edition of the Hong Kong Chronicles. (CHINA DAILY)
  The launch of the first volume of the English edition of the Hong Kong Chronicles was held at Government House in Hong Kong on Wednesday.
  Two Chinese-language volumes of the Hong Kong Chronicles, namely Overview &Chronology and Hong Kong's Participation in National Reform and Opening-Up, have been published. The English version of Overview& Chronology, which counts some 360,000 words and nearly 800 pages, was unveiled on Wednesday.
  Speaking at the launching ceremony, HK Chief Executive John Lee Ka-chiu said that one of the key chapters of the story of Hong Kong is about its national and international connectivity. He said the Hong Kong Special Administrative Region government will make the best endeavors to tell the world the good stories of Hong Kong.
  He said that reading the book will enhance understanding and appreciation of not only the nation's history, but also the future that offers wide-ranging opportunities for Hong Kong to take part in the nation's progress and development.
  "As we celebrate the 25th anniversary of the HKSAR's establishment, the publication of this first volume of the Hong Kong Chronicles in English is a fresh opportunity to tell the success story of Hong Kong.
  "There will be a lot of exciting stories ahead of us and I cannot wait to enjoy them with you since we are, as I put it in my campaign slogan, 'Starting a New Chapter for Hong Kong Together,'" he added.
  Liu Guangyuan, commissioner of the Ministry of Foreign Affairs in the HKSAR, said the book series is of great historical significance and cultural value because it fills a gap in Chinese chronicles by recording Hong Kong's 7,000-year history.
  "The book displays the unique charm of Hong Kong as an Eastmeets-West city where ancient and modern cultures also converge. It will help the international community know better about where Hong Kong came from, what journeys it has traveled, and where it is headed," he said.