Chinese mainland's summer box office exceeds $640 million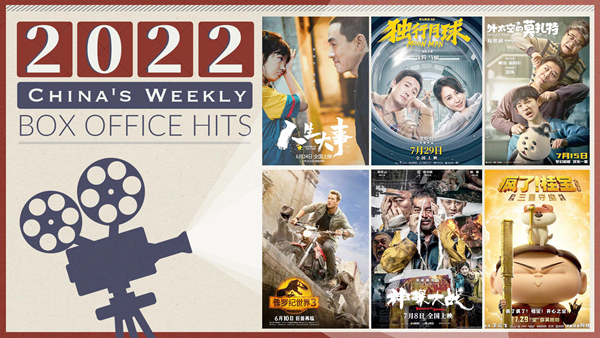 The total box office takings (including pre-sales) of the 2022 "summer holiday" (June 1 to August 31) reached 4.365 billion yuan (about $647 million) as of Wednesday. Topping the list is "Lighting up the Stars," which has grossed 1.598 billion yuan. "Jurassic World: Dominion" is in second place with 1.046 billion yuan and "Detective vs Sleuths" third with 616 million yuan.
  "Lighting up the Stars" tells a story of a mortician who is released from prison and unexpectedly changes his attitude towards his career and life when he meets an orphan at a funeral. It is worth mentioning that after 33 days of release, it has entered third place at the box office for 2022 and has broken six film records so far.
  Among the upcoming films, the comedy "Moon Man," which has attracted much attention, is likely to surpass "Lighting up the Stars," with pre-sale figures exceeding 60 million yuan, said Chen Jin, an analyst at Maoyan Entertainment, China's leading movie-ticketing platform. Chen also pointed out that the audience of "Moon Man" is very wide, while the male audience of "Warriors of Future" is close to 70%.
  There are still 25 films to be released in the summer season, and the box office this year had exceeded 4.3 billion yuan by July 27.
  The current summer box office performance is close to that of the same period last year, Chen said. "Driven by the good performance of 'Lighting up the Stars' and 'Jurassic World: Dominion,' the box office upper limit of the single-day market will be greatly increased, and it is expected to usher in a continuous outbreak," he said.