China Today Arts Week in USA: Theme of Love, American Fascination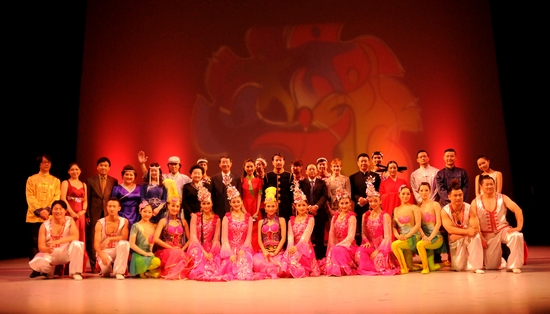 Group Photo of Distinguished Guests and Artists after Performance
"After the nightmare of September 11, peace is more cherished by American people, and cultural exchange will help Chinese people and American people to understand each other. We want communication with the whole world instead of war." an ex-general-manager of Metropolitan Operas said. Under the theme of love, a common topic for the entire humankind, 2012 US Tour of China Today Arts Week has witnessed a consecutive success at Lincoln Center, Yale University and Harvard University.
At the opening ceremony in New York City, Mr. Xia Chao, member of presidium of China Federation of Literary and Art Circles (CFLAC) delivered a speech. "China and US are blessed with rich and brilliant cultures and arts, in which we all take pride. Those splendid cultures and arts not only embody the two peoples' common pursuit, but also serve as a window for mutual understanding and a bridge of friendship. Of course we are fully aware that due to some factors such as history and population there still exist a great difference and distinctive features between Chinese culture and American culture. However, instead of being a barrier against the China-US cultural exchange, the difference and distinctive features provide the cultural exchange with a more important mission. Exchange will guide people to a colorful cultural appreciation and bring about mutual learning and reciprocal progress in both cultures. History has proved that exchange is the very motivation for cultural and art development. Among numerous events of China-US cultural exchange, 2012 China Today Arts Week US Tour might be as tiny as a drop of water in a stream. Therefore, our purpose is not merely to impress this performance in your mind as unforgettable memory, but to take this opportunity to help American audiences to understand today's China and Chinese culture and arts." Xia stressed the ultimate purpose in his above speech.
"Thank you all for bringing such a wonderful evening to us!" The boss of Chinese restaurant gave a deep bow to all the performers. This scene happened on the evening of September 16 when the art ensemble finished their late dinner. Such a sincere expression from an overseas compatriot who watched the whole performance is like a stimulation that has driven all the exhaustion and jet lag into the Pacific. On September 16, the second performance took place at Yale University immediately after their premier at Lincoln Center on September 15. Though the premier was successful, Chinese artists were still uncertain whether the praise from American people was flatter or not. Then American audience's enthusiasm in the following performances totally wiped out their suspicion.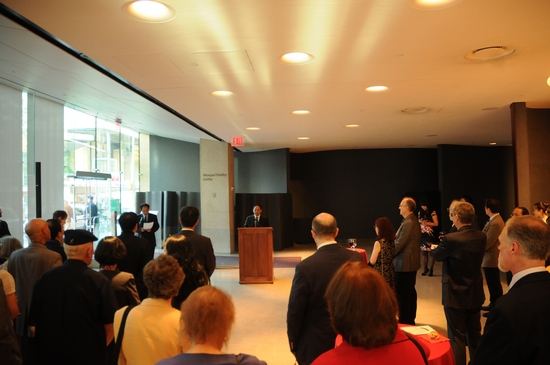 Xia Chao addressed at the opening ceremony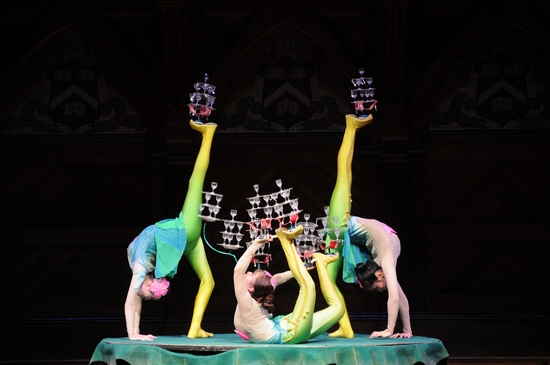 Acrobatic Program Three Persons Rolling Cups
The prologue is Drum Dance of East, a dance in combination of Yanke and ribbon dance, filled the venue with power of joy and set tones of happiness for the whole performance. When Yang Liu, anchorman from CCTV, and Wang Danwei from Wall Street Multi-Media appeared on the stage, warm applauses overwhelmed the whole theatre. Their greetings from motherland brought affectionate blessings to the audiences—mostly overseas Chinese compatriots.
The acrobatic program Art of Pottery—Jar Juggling was the most heart-stirring. At the beginning, four young men, standing in pairs, throwing little jars to each other on their head, which aroused low creams among audience. Along with the program, waves upon waves of exclamation were burst. In the end, acrobats' funny gestures brought about laughter in succession. Besides this men's program, Tianjin Acrobatic Troupe brought another female flexible skills Three Persons Rolling Cups. Despite elegant gestures, the audiences were concerned with the cups on the head and feet, which, they are afraid, might fall down.
"Beautiful" is the key word in many audience's comment on dances in the performance. Men group dance Ink Penmanship and women solo dance Chinese Fan Dance presented Chinese traditional calligraphy and integrated Chinese martial arts. In the group dance, with flying skirts of dancers, dots of Chinese ink spread in the air in such an elegant way that audiences seemed to have sensed the fragrance of ink in ancient times. In solo dance, the dancer resembled brush and sword with her fan in full rhythm. In the group classical dance Lotus Flower that is often on the stage of national leaders' abroad reception, girls shuttled back and forth with quick steps among the blooming lotuses like fairies. The dance Love of Mountains presented a wild love legend of a young couple in Wa ethnic group. Those dances dedicated by young dancers from China Oriental Performing Group such as Hu Na, Shan Sihan and Zhang Sirui won audiences' unanimous acclamation.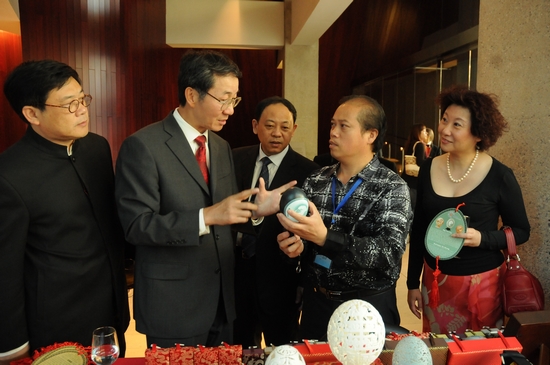 Xia Chao and Sun Guoxiang Visited Folk Art Exhibition at Lincoln Center in New York City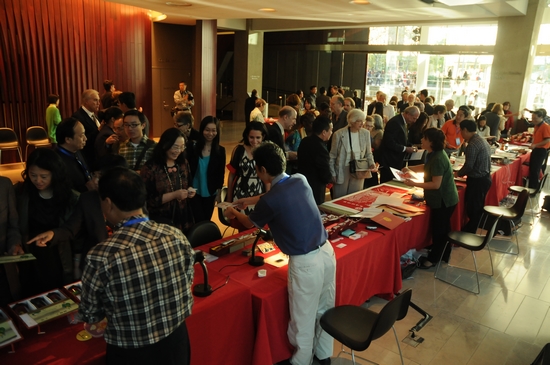 Folk art exhibition which held at Lincoln center sttracted thousands of New York citizens
Traditional Chinese music by its own instruments was also highly praised. The classical music Autumn Yearning at Dressing Table, in collaboration of Bamboo flute by Li Juan and Zither by Yang Yang expressed elegance of Chinese music while the Pipa solo Yi Dance Music by Tang Xiaofeng demonstrated boldness and passion. Xiao solo Shepherd's Song presented ancient serenity while Erhu solo Czardas by Yao Xinfeng showcased the sophisticated skills, which won thunderous applauses. Then his encore Horse Racing depicted a vivid scene in the Mongolian carefree festival. At last, five musicians cooperated in quintet American Songs Legato including theme songs from the films Titanic and Kungfu Panda, all of which were strongly echoed by local audiences.
Chinese fashion is highlighted in various songs dedicated by Chinese artists. In red mandarin costume, Ms Ha Hui chanted in an elegant manner with Courtesy and Cooing Turtledoves, which conveyed the charm of Chinese ancient poetry and morals. Buren Bayaer, a Mongolian singer, depicted the landscape in grassland with his song Hulunbeir Prairie, and then he invited his wife Urna and his daughter Urman on the stage, to sing the popular song Three Lucky Treasures which reflected the humor and optimism of Mongolian people. The handsome singer from Xinjiang, Hirali, dedicated a sorrowful presentation of the song Why is the Flower so Red. The last program was typical song and dance from Xinjiang Sing Aloud in Tianshan Mountain presented by China Oriental Performing Group, whose passionate atmosphere marked a happy ending of this performance. Naturally such an unforgettable evening has made American audiences look forward to another tour of China Today Arts Week in the future.
On September 16, China Today Arts Week arrived at the second venue—Yale University. The campus was built in 1701, and many Gothic architectures still remain in this campus. The performance venue is an ancient concert hall that resembles a chapel in shape with a giant organ preserved. Perhaps as it was the second performance or this beautiful concert hall inspired the Chinese artists, all their performances were much better than the premier. Under the dome, both American audiences and Chinese artists were entirely fascinated with time-honored Mongolian Long Song, Ya Music Everlasting Friendship in Han Dynasty and folk music with literary expressions. The university had planned to limit the audience to the ground floor, but in the light of extreme enthusiasm of audiences, they had to accommodate 1500 audiences with their first floor seats. With constant climaxes, the audiences' passion lasted till the end of the performance.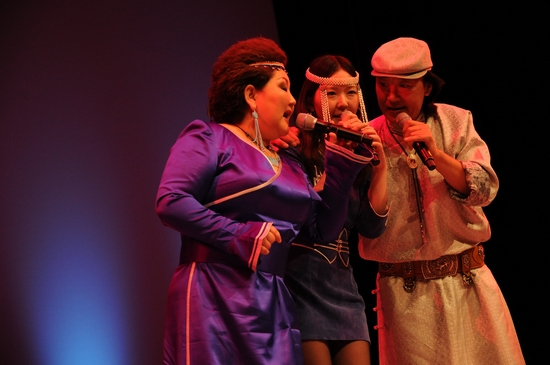 Urna, Urman and Buren Bayaer sang the song Three Lucky Treasures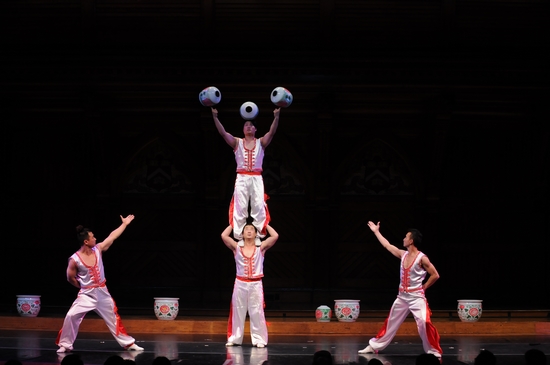 Acrobatic Program Jar Juggling
The folklore handicraft fair outside the venue was still attractive to American audience. In their eyes, New Year pictures from Wuqiang County, Manchurian Paper-cut from Fengning, Egg Carving, Ironed Weed pictures, Inner Bottle painting, dough modeling and inkslab box were all interesting. They gathered around the tables, asking about the raw materials and technique and fondling those exquisite craft. Shi Junfeng, a paper cut artist, made paper butterfly on the spot as a gift to American friend and Jia Jianhui, deputy director general in Wuqiang New Year Picture Museum, showcased the printing models and taught Amerian audience how to print pictures in different colors. Pu Derong, a famous egg carving artist, presented a different egg carving from that in the West and won exclamation with its sophisticated skills. His most characteristic works is emu egg carving whose colors are divided into three layers and the most thinnest part is pervious to light. Jin Yiming's inner bottle paintings vary in both oriental and occidental themes and mysterious skills. Liu Yongle's weed painting, Zou Hongli's inkslab and Wang Liang's dough modeling are commonly thought as exquisite. Most of them gifted their works. As they said, it is their satisfaction that American friends are fond of their craft and learn more about Chinese culture through them. A little teenage girl of Chinese origin, who lived in USA since her childhood, showed great interest in paper cut. At the sight of this reluctant girl at her table, Shi Junfeng handed a set of paper cut to her. Kito, stage manager of Yale University Auditorium, were excited with New Year picture of his Tiger Year. As he has never been to China but all his friends have, at the sight of so many delicate craft, he has borne a strong desire to have a look at China, a country with so various excellent artworks.
Juli is an ordinary audience and has been to China on four occasions, but she was much surprised to see the abundance of Chinese arts through this performance. As she said, in Americans' opinion, Chinese people are hardworking and diligent. Yet this performance will unveil another virtue of China, that is, excellent Chinese arts and Chinese humor. The diversity in cultures of ethnic groups presented in the performance indicates Chinese government's efforts in preserving cultural diversity among ethnic groups, which may be unfamiliar to the foreigners.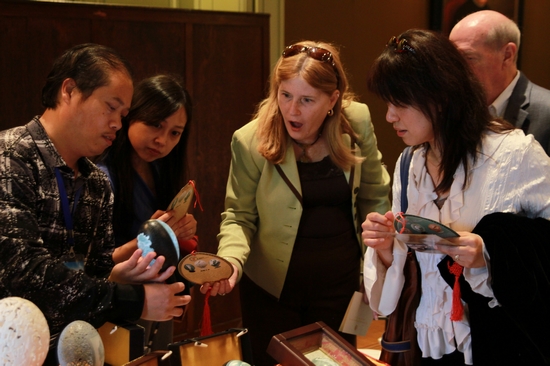 Paper Cut, Inner Bottle Painting and New Year Painting Gained Popularity among Overseas Audiences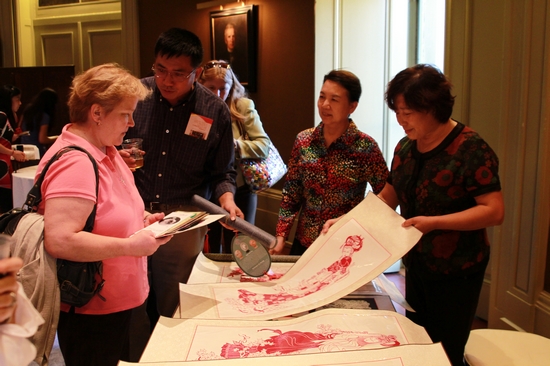 Paper Cut, Inner Bottle Painting and New Year Painting Gained Popularity among Overseas Audiences
On September 22, China Today Arts Week arrived at Harvard University and the performance venue is set at Memorial of Harvard University. In both corridors along this church-like architecture, names of those graduates who sacrificed for their motherland in the 19th century were inscribed on marble. With pure wooden structure, this concert hall was ancient and solemn, and two-storey audiences' seats were arranged in semicircle shape. Despite of the small size, the stage presents a perfect acoustic sound effect. As early as in program planning period, all above conditions were taken into consideration and it was determined that all the performances must be excellent in quality but not giant in quantity, which proved to be a success later. Take solo of traditional Chinese musical instruments as an example, it is quite rare in domestic performances, but extremely popular in USA and it won the most applauses. Such a program, no luxury stage arts and lightening required, depends on the artistry itself. On the other hand, there is hardly any celebrity among the lineup which mainly consists of young artists born in the 1980s. This implies to us that it is high time that young talents represent the present and future of Chinese arts. In selection and arrangement of programs, tradition and modern arts are properly coordinated. In dance, there is Lotus Flower of ancient tradition as well as Ink Penmanship and Chinese Fan Dance with modern dance choreography. The traditional acrobatic programs were rearranged in modern style, so is with the folk music. The instrumentalists presented traditional Autumn Yearning at Dressing Table as well as Czardas adapted from Italian violin melody. Moreover, the repertoire also involved a variety of Chinese ethnic groups such as song and dance in Xinjiang, Long Song of Mongolian people, dance from Wa Nationality and music from Yi Nationality. Such a distinctive performance of ethnic flavors was well-received among American audiences.
Titbits
Friendship and Culture
Sino-US friendship promotes cultural exchange and cultural exchange help build a solid foundation for friendship between people of the two countries. During my interview in USA, I found a couple of interesting stories as follows.
Wang Ying is an American Chinese girl who favors Mongolian artists' performance. After the performance, she and her friend Peter waited to see those Mongolian artists. When she told Buren Bayaer that she liked Mongolian music and especially the song My Mongolian Mother in Dream by Wudamu, a Mongolian boy in China Talents Show, Buren showed her the photo of Wudamu in his cellphone immediately. As a matter of fact, Wudamu is the adopted son of Buren and his spouse Urna. Then Wang Ying was so excited. She said that she would cry every time she heard the song and Mongolian music is specially for touching heart. As to his boyfriend Peter, he favors the Erhu solo most. Though he can't explain clearly why, when he traveled to Beijing, he would go to park where Erhu is often played. He would spent a long time sitting in appreciation.
Juli is an ordinary audience and has been to China on four occasions, but she was much surprised to see the abundance of Chinese arts through this performance. As she said, in Americans' opinion, Chinese people are hardworking and diligent. Yet this performance will unveil another virtue of China, the excellence of Chinese arts and the humor Chinese people. The impression of Chinese art, especially song and dance of various ethnic groups of China, is quite new and interesting for American audiences. Generally, most foreign visitors will go to some metropolises such as Beijing and Shanghai for their trip to China, so they lack knowledge about minority ethnic groups in China. The diversity in cultures of ethnic groups presented in the performance indicates Chinese government's efforts in preserving cultural diversity among ethnic groups, which may be unfamiliar to the foreigners. Her companion, Xu Li, also comes from China. They met each other and made friends in Beijing four years ago, and their friendship continues in USA.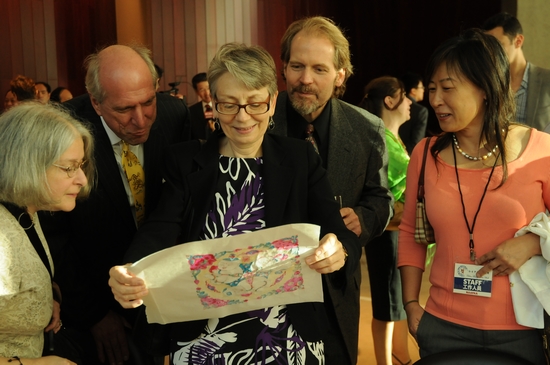 Paper Cut, Inner Bottle Painting and New Year Painting Gained Popularity among Overseas Audiences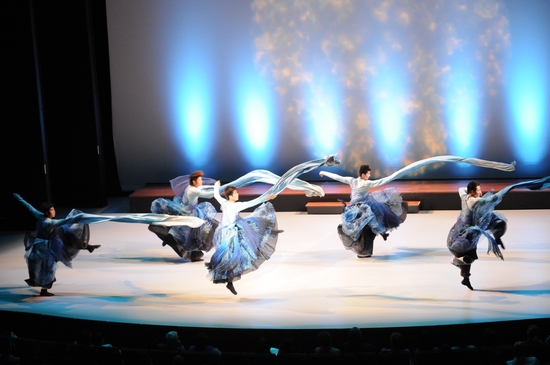 Dance Ink Penmanship
Accident is only Interlude
As Ms Guo Qingli, head of acrobatic troupe, said, the whole tour in USA is 100 percent OK, with all trivial trouble solved. At Yale University, the performing venue was a beautiful theatre in ancient style. The acrobats found that the stage is a slight slope, which was quite a challenge, especially for the two acrobatic programs based upon fine balance. If not dealt properly, it would cause failure in performance.
As rehearsal time is quite limited, generally speaking, it is not necessary for the acrobats to perform the whole program Art of Pottery-Jar Juggling so long as the lighting is OK. However, in consideration of the special stage, Wang Lei, Wang Song, He Ran and Liu Tenglong spared some time to practise as much as possible to grasp the accuracy. Comparatively speaking, the program Three Girls Rolling Cups is easy to handle. A wooden board under the lotus platform will basically ensure the balance of the three performers Dong Yin, Zhang Qian and Sun Shengsheng.
Though the performance went smoothly, accident still happened. Dong Yin had her feet hurt when moving props, which, if not handled properly, would affect the performance. The coincidence is that the guide in charge of the art ensemble is her fellow from Tianjin, and this warmhearted man swiftly brought some ice cubes to cool down the wound and bought some medicine. Luckily, the next performance was scheduled to Saturday in the next week in American habits, and then she had a week for rest. Thanks to the above factors, this accident turned out to be only an interlude for the whole tour.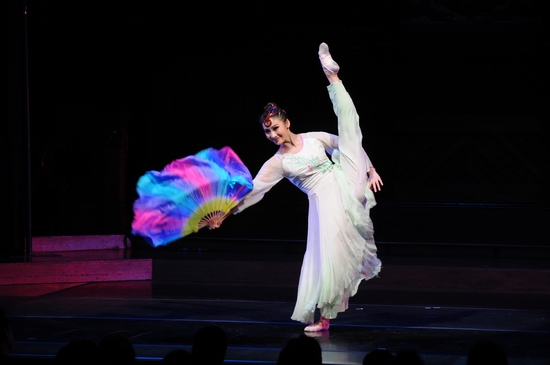 Dance Chinese Fan Dance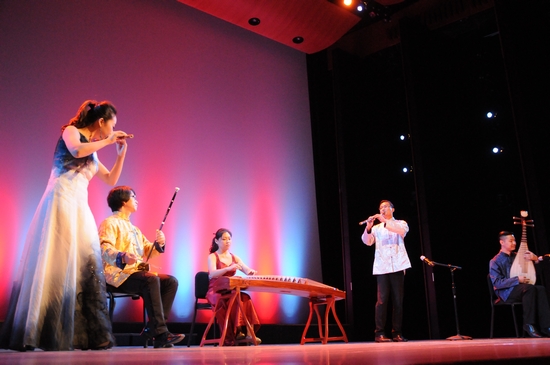 National instruments ensemble
Happy Family Reunion
Madame Urna regarded this performance as the happiest one because she not only sang together with her husband Buren Bayaer and her daughter Urman on the same stage, but also it was her first time that she had been to USA to see her daughter who had gone to Berkeley Music Conservatory in Boston in 2011. When the 3-people family sang the famous song Three Lucky Treasures, it seemed to be a happy family reunion in a foreign country. Then they sang a Mongolian Long Melody as encore. One was joyous and the other sorrowful, both of which fully represented the Mongolian characteristics. According to Urman, she never expected Mongolian music to be so popular among American audiences. Some fans for Buren Bayaer came from afar to see the performance and rushed to the back stage after the performance for taking photos. As they said, they pratised Taiji boxing to the song Skyline by Buren. A parents-and-child family even ordered Mongolian dress from China and wore them to imitate the song Three Lucky Treasures in part time events in school or neighborhood.
Before entering Berkeley Music Conservatory, Urman never experienced any professional education, but she has enjoyed music since her childhood and has learned to play the piano and compose some songs. The reason she chose Berkeley was that American culture and education is more of inclusion. There are many students like Urman who started their courses in music from scratch, and thanks to their cordial love of music, they have devoted everything to their course. After a short visit around Berkeley Music Conservatory, Buren Bayaer and Urna were delighted to find that this university provides so plentiful conditions for students that they can make any wish come true.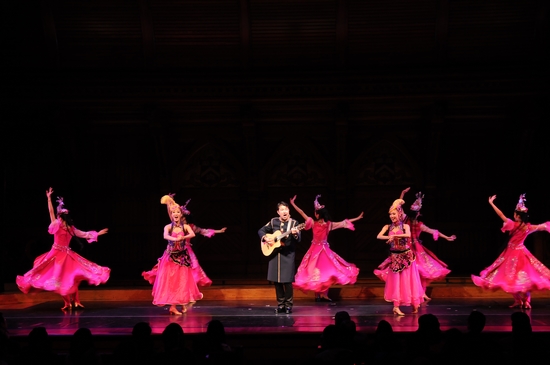 Song and dance Sing Aloud in Tianshan Mountain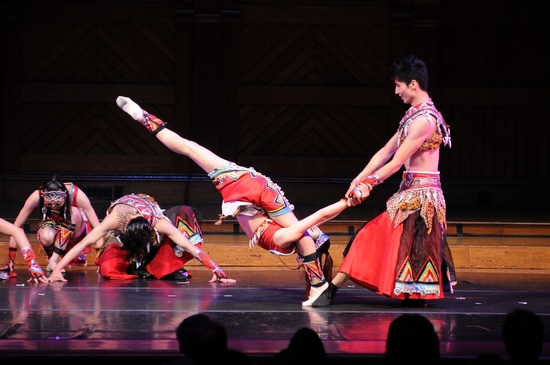 Dance Love of Mountains
Viewpoints
Li Dongzi (Choreographer of China Oriental Performing Group)
It has been my wish to view performances in Broadway in New York long before my trip to USA. In China, I can only view some clips or extras, and the live show is totally a different experience. Thus upon my arrival in New York, I hurried to see two shows, Spider Man and Fuerza Bruta. Particularly, I have borne great expectation for Fuerza Bruta, an experimental show in the outer Broadway. It was indeed spectacular! There was a swimming pool above audiences' heads, and sometimes performers were acting in the water and sometimes interacting nearby you. This show has given me lots of inspirations of performing space utilization and free areas in performing stage. During the performance, there were no seats and all the audiences had to stand watching. Moreover, they had to scatter or squat for vision from time to time, which looked like shows in night club. I think we can try such a performance in China as it resembles the drama in tiny theatre. With its eccentricity and novelty, this kind of show will become youngsters' favorite.
With the total investment of two hundred million dollars, Spider Man adopted the top level stage space maneuover and wire technology in the world. As a commercial show, it is determined to provide sensual stimulus. In their logic, art is art, commercial is commercial, and orchestra is orchestra. Each category has its own accurate position in performance.
Chinese counterpart has always been following up with the Broadway, but it is quite difficult to update with some technology. Many Chinese artists are conducting related research and introduced lots of shows to Chinese audience. As to interior performance, Dancing Water by Macao will soon come onto the stage of mainland, and as to exterior performance, landscape performances directed by Zhang Yimou and Chen Kaige are all giant productions. There will be more and more blockbuster performances in China's stage presentation. Take Mama Mia as an example, with all verses translated into Chinese, hundreds of occasions accumulated considerable income. However, most of income was paid to copyright holders in USA. China is already a prominent market in Broadway's vision. The other day when I watched Aida in Beijing, a promoter came to tell me that he will present the first-class musicals by first-class performers from Broadway in China as those lineups of American musicals such as CAT were only of minor level. In a word, the distance between performance in China and that abroad is being shortened.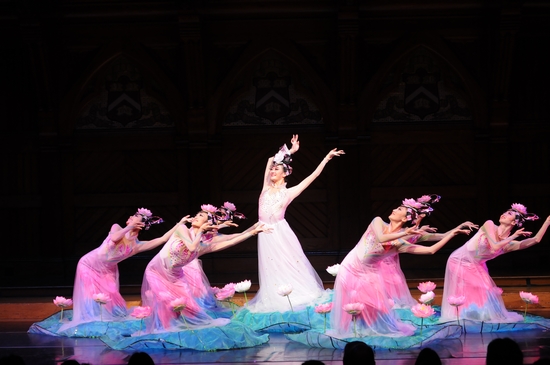 Dance Lotus Flower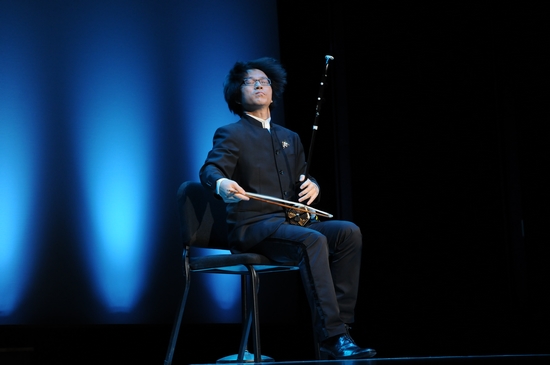 Yao Xinfeng was playing
I had a deep impression in cooperation with stage technicians from American side. They are so thoughtful in pre-performance arrangement that no problem will occur during the performance. In stage acquaintance, we must tell every piece of our requirement and he will take a note as memoir for performance. In USA, they only use CD player and CD is quite fragile, so we have to make several copies ahead of our tour in USA.
Yao Xinfeng (Leading Erhu Player in Shanghai Chinese Orchestra)
For this performance, I deliberately chose Czardas, a lively piece adapted from Hungarian dance melody. As I prefer some improvisation on the spot or some structure revision, I didn't follow strictly the original score. Of course this piece is easy for improvisation, while those traditional pieces with regular structure might not be suitable for adaptation. This piece is originally a melody for random dance at ease, and there is always lots of freedom in European or Russian folk music. Like music in Xinjiang and Tibet, this piece leaves quite an extensive space for remodeling, which is also why I enjoy it most. It is of artistic interest to change styles when presenting a piece of music and I suppose foreign youngsters will like my improvisation as well.
Certainly I have another reason for choosing this famous piece, that is, it is a familiar violin melody to every household abroad. Then foreign audiences will get a direct feeling that Erhu, Chinese two-string violin is also capable of such a masterpiece of violin, and Erhu will imbue youth energy. At least it is a different kind of presentation with pretty pleasant sound, which might be the firsthand idea in many American audiences' mind. As far as I can see, it is not absolutely proper to play foreign music with traditional Chinese musical instruments because the player must master the style and connotation of the music first. On this basis, with special features of Chinese musical instrument, it is possible to make this perfect combination.
Why did some Chinese instrumentalists make foreign music sound terrible to Westerners? Because they only followed the traditional Chinese feeling and change the whole piece into a Chinese sample, which makes no sense for foreign audiences. Chinese culture and musical instruments are totally different from that of other countries. Some foreigners may take this for fun occasionally, but they find no touching points at all. When playing, the player must be closer to the audience by heart and try to arouse echos and bring new feeling, then the performance is indeed a success.
Reporter's Note
Charm of Chinese Art: Chinese Confidence in USA
As a famous saying goes in China, to conquer a man, you must conquer his stomach. Food and cuisine might be a good starting point to know about a nation. This is a typical Sichuan cuisine restaurant located in Manhattan, New York City of USA. I, as a native from China, had to concede failure in front of those three foreigners who were so fascinated with spicy dishes. The three gentlemen sitting next to my table ordered one cold dish and three hot dishes. They were Pork Lungs in Chili Sauce, Sauted Chicken with Chili and Pepper, Fish Filet in Spicy Sauce and Poached Sliced Beef in Hot Chili Oil. At the sight of all the shining red chilis, nobody can resist the temptation of delicious food. Of course, it didn't indicate that the great gap between Chinese culture and American culture could be so easily transcended. As far as I am concerned, the three Americans enjoying Chinese food have more or less realized the merit of Chinese culture as well as candid and open character of Chinese people. Delicious Chinese cuisine experience may be a subtle communication for cultural exchange, and so is the USA Tour of 2012 China Today Arts Week.
The US Tour of China Today Arts Week, sponsored by China Federation of Literary and Art Circles (CFLAC), consists of comprehensive performance and folklore art showcase, both of which gained great popularity among American audiences. In this tour, Lincoln Center, Yale University and Harvard University became the main three venues. As Lincoln Center is a professional concert with severe requirement for age admittance, its component of the audiences was quite different from that of the latter two venues. More than half of the audiences in the two universities were kids and teenagers. In the performance at Yale University, an Erhu instrumentalist had to wait for a minute until a crying baby calmed dowm. these young audiences were mostly descendants of Chinese immigrants, their parents or their parents' friends took them to the performance. A couple even brought five kids or some took babies less than one year old. Though they were fully aware that their kids were too young to attend the whole performance, they had no other choice, which reflected their anxiety at heart of being away from the Chinese tradition.
In the past, the second generation of Chinese immigrants (America-born Chinese, or abbr. ABC) were called "Banana People", because they were yellow only in skin and white in the rest. As a country boasting its time-honored civilization history of five thousand years, China is blessed with abundant and colorful cultures of multiple nationalities and unique moral principle. With the expansion of Chinese immigrants all over USA, those who don't dwell in such traditional gathering cities as New York, San Francisco and Los Angeles have lost contact with their cultural origins, and how to inherit Chinese cultural tradition will become an increasingly serious question to address. If their younger generation turn into Americans, they will be at loss totally. Therefore, there is always an earnest call for Chinese cultural heritage.
After the performance at Yale University, a lady surnamed Lei and his daughters were waiting to take pictures with Chinese acrobats. Every time when there is Chinese performance, she will invaribaly buy three more tickets for her three daughters, and thus all her girls bear interest in Chinese culture and art. Her eldest daughter is already in her twenties, and she hurried from afar just to appreciate this performance. Certainly there are different stories. After the performance at Harvard University, I found a man with three girls and one boy waiting for photos. In our talk, I learnt that he immigrated from Beihai City, Guangxi Autonomous Region. His 15-year-old son has no problem in daily communication in Chinese while his 13-year-old daughter can not speak even one or two mandarin sentences, though both of them attended the same Chinese class. Mr. Yang sighed when talking about his daughter's Chinese learning, "As she doesn't like Chinese at all, I can do nothing about it. In my heart I was so worried. I often try to coax her into working hard at Chinese by gifts, but she is just not willing to." When I ask this girl whether she regrets not learning Chinese well after she watched this excellent performance, she nodded and confessed that her interest in Chinese is already aroused. Maybe her instant interest could not keep her learning long, but nobody could deny that this performance has opened a window to the culture of her motherland.
This is simply the charm of culture.
In the meanwhile, lots of foreign native kids came to see the performance, and some were organized by their Chinese tearcher. Those young audiences were excited about this performance and had their different favorite programs and commented almost the whole repertoire. Some believed that the traditional Chinese musical instrumentalists presented a better song than the original soundtrack in the film Titanic, and a little teeenager had a bizarre reason for liking the Pipa solo, that is, "because his fingers moved so fast". Though he had never seen Pipa playing and had no idea about traditional Chinese music, this foreign kid uttered his direct feedback when he appreciated the sophisticated technique of Chinese artist. He and his 20 classmates came from St. John, a private senior middle school of Masachusset State. According to Shi Xinghui, leading teacher of this group, Chinese is a major course and 130 pupils out of the total 1000 chose this course. As director general of foreign language teaching team, she felt proud of her motherland and mother tongue.
Many men of insight in American education are now pushing forward the regular education of Chinese language. Dr. Defur, director of the World Languages in New Heaven District of Connecticut started his efforts from 2006. In 2007, Chinese course was set up in a middle school and in 2008 Chinese course was officially introduced. At present, a 90-minute-long course is taught in senior middle school every day and Chinese course is started in a primary school. In this district, there are eight teachers of Chinese among 91 teachers of the world languages. As China is growing towards an economic power in the world, learning Chinese has become a fashion and more and more young people, planning for future job, university education and so on, are showing increasing interests in selecting Chinese as their foreign language. "Seeing performances is a direct and effective way to understand Chinese culture. Only by seeing with their eyes and hearing with their ears can they feel vividly the essence of Chinese culture and arts in their heart. It is my hope that this kind of performance shall not be a rare occasion but something we can appreciate every week." Dr. Defur said.
Compared to Dr. Defur, most overseas Chinese might be more practical. They just look forward to next year.
As far as I can see, China Today Arts Week sponsored by CFLAC is only part of Chinese culture "Going Out", and various types of cultural exchanges will fulfill the wish of overseas Chinese compatriots.