2013 China Today Arts Week in Thailand and Cambodia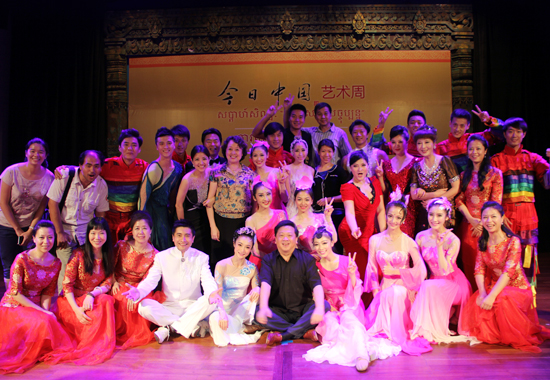 Group Photo of the Whole Cast after Performance
"Oh, Dear China, My Loyal Heart Still Miss You Forever…Ah, Cambodian People are Always Your Friends!" The song Missing China created by King Father Norodom Sihanouk expresses the author's deep nostalgia for China and conveys brotherly friendship between China and Cambodia.
"On a bright spring day, various flowers compete for beauty; May time will witness, China-Thailand fraternity." The poem lines by Princess Sirindhorn of Thailand reflect the profound traditional friendship between China and Thailand and convey a common wish of the people from two countries.
From October 28 till November 8, on the occasion of China-Cambodia Friendship Year, the 55th anniversary of diplomatic relations establishment between China and Cambodia and the 38th anniversary of diplomatic relations establishment between China and Thailand, 2013 China Today Arts Week was staged respectively in Thailand and Cambodia. From Beijing to Bangkok and then to Phnom Penh, with best wishes, congenial affection and abundant art forms, Chinese artists under the leadership of CFLAC presented the contemporary charm of China and made a heart-to-heart bridge between the people of China and their counterpart in Thailand and Cambodia.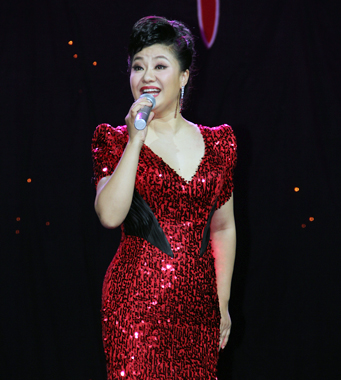 The Song Ode to Wintersweet by Wang Lida
Gala of Excellent Programs Fascinated Audiences in Thailand and Cambodia
Variety performances, Qinghai Folk Craft Exhibition and Chinese Film Show…China Today Arts Week win its popularity with abundant contents, various forms and pure Chinese taste.
The variety performances staged on two occasions respectively in Thailand and Cambodia gathered many outstanding Chinese artists including famous singers Yu Junjian, Ding Yi, Yao Hong, Wang Lida and Wang Zhixin, reputable dancer Shan Chong, magician Xu Fengmei, dulcimer instrumentalist Cui Jing and acrobats Wu Zhengdan and Wei Baohua, all of whom dedicated programs such as Little White Poplar, Nessun Dorma, Happy Evening, Ode to Wintersweet, Harmony, Love Song of Kangding, Seven Peony Fairies and Oriental Swan—Ballet on Hands. Their excellent performances conquered the audiences in both countries.
After viewing the premier performance in Cambodia, Minister of Council of Ministers Sok An and his spouse praised Chinese artists performances and extended their cordial congratulations and gratitude, and National Television of Cambodia recorded the whole performance. China-Cambodia Friendship Radio conducted reportage over this excellent performance and broadcast several songs by Chinese artists such as Yu Junjian, which received good feedback from many audiences who called to express their favors. A Cambodian audience said that it is quite a pity that he fails to attend the performance at Phnom Penh though Yu Junjian's songs were his favorite. He hoped that his family would be given opportunity to appreciate Yu's live performance.
Wherever the variety performance took place, many foreign audiences became its new fans crazy to follow. Many of them will continue to attend the second occasion as they wish, and Sotmnee, an ordinary Thai person, was just among them. She told us that she was so fascinated with the songs, dances and acrobatic shows of the variety performances that she couldn't help coming to enjoy the second performance because she was strongly interested in Chinese culture from that time on.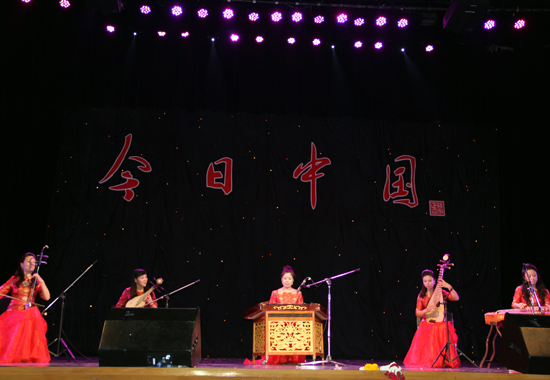 String Quintet Happy Evening
Folk Handicraft Exhibition from Qinghai attracted plenty of local people as its fans, as Tangka, Embroidery, Paper Cut, Tibetan Embroidery and Piling Embroidery and other handicraft works of distinct Qinghai flavor amazed them a lot. Moreover, the live demonstration on how to make them by folk artists were specially arranged so as to enable local audiences to understand the whole procedure of manufacture. For example, paper cut skill by folk artist Zhang Feng was a highlight in the exhibition. Witnessing a pretty butterfly occurring out of Zhang Feng's hands in an instant, a Thai girl was so excited that she dared to have a try by herself. Thanks to Zhang's instruction and assistance, she finally succeeded in cutting out a flower. With a smile on her face, she expressed her favor in paper cut of Chinese art and would like to continue practicing this skill in future.
The selected films in this Chinese Film Show, such as Smile of Angkor, Love on Gallery Bridge, The Piano in a Factory, Love is Not Blind, Tangka and My Mongolian Mother, were all latest award-winning films that demonstrated history, cultures, folk expressions of China as well as the social development and people's life since reform and opening up. Great popularity were received, especially the co-production of China and Cambodia Smile of Angkor in reflection of profound bilateral friendship. When shown in Cambodia, the whole cinema was full to its capacity, and some audiences even stood to watch this 90-minute film to the end. A kid even cried in front of the cinema for his being late to enter the full-packed cinema. When he learnt from the working staff that all these Chinese films would be shown in circulation in the coming week, his smile returned to his face with expectation.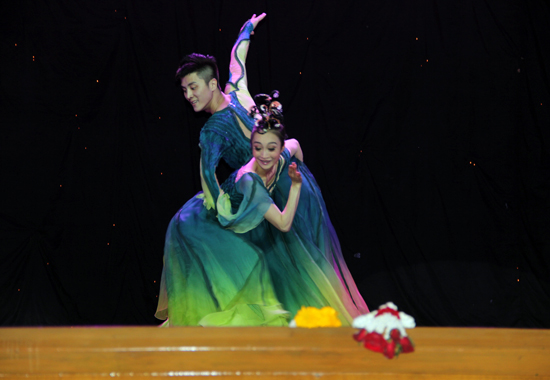 Pas de Deux Harmony by Shan Chong and Shan Sihan
Exchange and Communication Lead to Mutual Understanding and Fraternity
"Through China Today Arts Week, we hope to enhance friendship and cultural exchange between people of China, Thailand and Cambodia, solidify the traditional partnership between China and the other two countries and create a better future in joint efforts." Li Qianguang, head of CFLAC Art Troupe and member of Secretariat of CFLAC, pointed out the objective and significance of the Arts Week.
Friendship and harmony became the theme of this Arts Week. During the course of performance and exchanges, Chinese artists conveyed and obtained the happiness from friendship as well. Whether in Thailand or in Cambodia, passionate audiences would spare no cheers or applauses over the outstanding performances and would rush to take photos with Chinese artists as soon as the curtain was closed. Certainly, Chinese artists would invariably accept their friendly request like old friends, and the whole venue was filled with a harmonious atmosphere like a family reunion.
The performance in Thailand was jointly presided over by Ms Tu Jingwei from China and Mr. Nattapong from Thailand. In a short time, those strangers became close friends despite the linguistic barrier. Instead, their tacit agreement and lively interaction won the local audience's applause. After the performance, Nattapong even brought his mother to take photos with Tu Jingwei together for souvenir.
In order to approach to local audiences in Thailand and Cambodia, Cui Jing and other four instrumentalists particularly prepared some pieces of local music. Soon before the premier performance, an employee of the venue even sang to the music played by Chinese musical instruments. As to singers, Wang Lida and Wang Zhixin rehearsed some famous songs such as Rain Lines created by Thai king, Water Lantern Song, a ballad in Thailand and Missing China created by Cambodian King Father. When the melody started on the stage, many people would sing together with their sympathetic responses, which constituted a touching scene.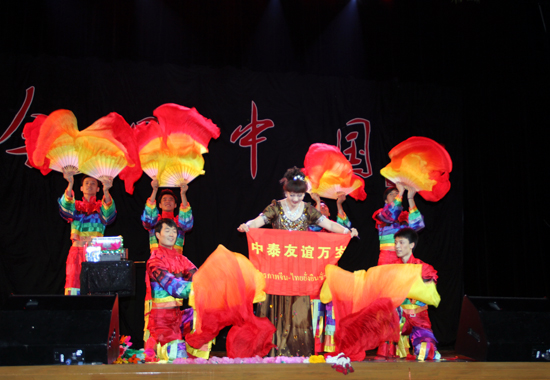 Magic Program by Xu Fengmei
"Every pose, note and gesture of your performance will represent the contemporary outlook of our motherland, and your fulfillment in this performance is just your contribution to building the China-Thailand or China-Cambodia friendship." Yu Junjian, the director and art supervisor of this variety performance uttered his rigid requirement. In each rehearsal, he would study every detail and discussed several times with every performer. In this case, every performer took serious attitude towards this special performance. Wu Zhengdan caught a severe cold before departing from Beijing, and the great difference in temperature between freezing Beijing and sweltering Bangkok made her extremely miserable. However, when she stepped onto the stage for rehearsal, she seemed to return to normal immediately and carefully rehearse those skills with high and complicated difficulty. Senior tenor as he is, Ding Yi still elaborately rehearse his songs once and again. Xu Fengmei carefully examined the props prior to the performance and all the dancers made sufficient exercises and checked their own position on the stage invariably… Besides their excellent performance on the stage, their hearty devotion to arts moved all the staff to tears.
"This event has brought local people in Thailand and Cambodia to a further knowledge of the current development level of Chinese culture and arts and helped us to absorb and learn about culture and arts of different nationalities." many participant artists shared their common feelings. For Shan Chong, it was the very first time that she had been to Thailand and Cambodia. In her discovery, the local architecture and arts are blessed with their unique character. With great interest in local dances, she would record the related materials concerning dance right away. As she introduced, despite much difference between local dances and Chinese classic dance, she would take them as reference in her future choreography as arts communicates with each other smoothly. As enthusiasm and simple hospitality of the people in Thailand and Cambodia impressed on her mind, Yao Hong looked forward to more opportunities for exchange and mutual learning with her counterpart of the two countries in culture and arts.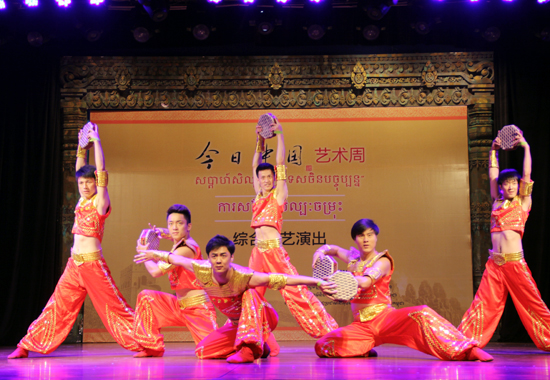 Men Group Dance Passion of Drum
Love for China Remains at Heart
"I Love You, China!" this is the Chinese Caption on the screen of a laptop shown to Chinese artists by a local audience prior to the premier performance and the background is the national anthem of China. This young guy told me that he specially made this caption when he learnt about this performance to express his love for China. Though he couldn't speak mandarin, he had this idea as a way to show his expectation for China and gratitude towards Chinese artists.
Pich is a student of Cambodia and he arrived at the venue as early as it was 5 pm though the performance started at 8. He confessed his eagerness, hoping to learn more about China and Chinese arts. According to Pich, the traditional friendship between China and Cambodia is far more profound and Mao Tzedong Blouvard in Phnom Pen is just the proof of such friendship. He also looks forward to visiting China in the near future.
"It's a fantastic film! I'm happy to see such a story happening in Angkor Wat but directed by Chinese director in Cambodia!" Xiao Xie frankly uttered his liking to the reporter after viewing the film Smile of Angkor. At the age of 18, such a boy of the 3rd generation of Chinese immigration is busy preparing for national entrance exam for university education. Capable of speaking mandarin, Xiao Xie volunteered as interpreter and assistant for the Arts Week. With Chinese blood in his body, he bears a special feeling for China and his wish is his university education in Beijing.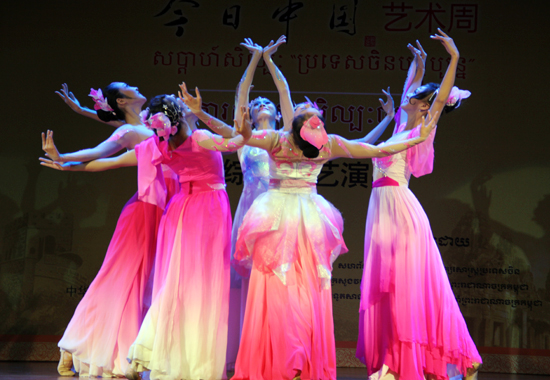 Women Group Dance Seven Peony Fairies
The horizontal scroll of welcome and congratulations for China Today Arts Week easy to find in many streets and roads in Cambodia brought us to feel vividly the enthusiasm and expectation for Chinese arts from Cambodian people.
In the whole process of visit and exchange in Thailand and Cambodia, a bright smile, a kind wink or a series of applauses from local people would indicate their friendly attitude and hospitality towards Chinese people. Some even greeted with some simple sentences in Chinese and Songsak was just one of them. The performance made him fond of Chinese songs and he would continue to learn Chinese and try to sing Chinese songs.
Art is a carrier of emotions and culture is the bridge between hearts. Thanks to the integration and exchange of culture and arts, understanding is enhanced and friendship is strengthened between Chinese people and Thai and Cambodian peoples. "The successful presentation of the performance demonstrates the close cooperation in cultural fields between Thailand and China and bears a significant meaning in promoting bilateral relationship." "China Today Arts Week is one of the most important events in culture and arts concerning the comprehensive strategic partnership between China and Cambodia and the outcome of cultural exchange and cooperation between the two countries as well." All above high comments are from Mr. Sontaya Kunplome, Thai Minister of Culture and Madame Peourng Sackona, Cambodian Minister of Culture and Fine Arts.
China Today Arts Week, a brand external cultural exchange event of CFLAC, is playing its role in full swing. As envoys of contemporary Chinese cultural exchange, all the participant Chinese artists, while dedicating arts to the peoples in Thailand and Cambodia, have maintained unforgettable sentiments at heart.