China Today Arts Week in Czech Republic and EU Headquarters
An Art Bridge between Hearts for China-EU Exchange and Reference
——China Today Arts Week in Czech Republic and EU Headquarters
Stage Photo of Peking Opera Legend of Lady White Snake
China is a country of a time-honored history and a profound culture. Along with the social development and progress in China, while China expects to learn more about the world, the world is unprecedentedly eager as well to know about everything of China, including its history and modernity as well as its traditional culture and contemporary arts. From the year 2004 on, CFLAC will annually sponsor China Today Arts Week in various countries so as to open a gateway to the social development and contemporary arts in China.
At the invitation of Czech China Friendship Association, the Organizing Committee of 2015 European Capital of Culture, Chinese Mission to EU and EU Parliament, CFLAC sent a 70-member team to set off on June 29 for Pilsen in Czech Republic and Brussels, EU headquarters location, in Belgium consecutively to present China Today Arts Week, a brand event of CFLAC cultural exchange. It is a showcase of excellent Chinese traditional culture in Europe and a sharing of Chinese art development with European counterpart. It serves as a window of literature and arts by telling stories of today's China as well as an art bridge between hearts to promote exchange and mutual reference of Chinese and European civilizations.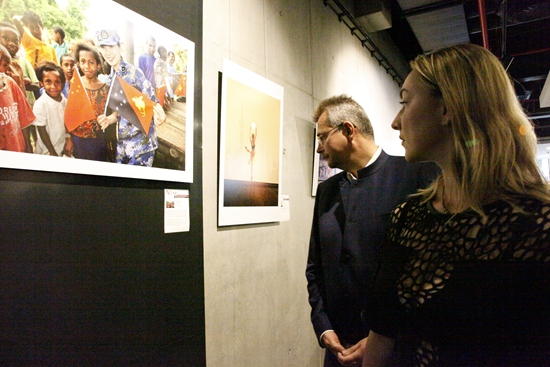 The First Destination: Pilsen in Czech Republic
Czech Republic, a country in the Middle Europe, will remind most people of Prague, its capital, which, full of melancholy yet extremely attractive melodies and landscapes, and has become indeed a city of mystery and romance in most people's imagination. In the radiant and enchanting sunlight, the vision of unlimited orange roofs will warm your heart. The magnificent architectures with subtle particulars in every corner, from Roman type to Gothic type and from Baroque to Rococo, have turned Prague into a museum of architecture collection. Even on the open-air square in the daytime, artists can find a perfect balance of bustle and romance. Such a cordial atmosphere full of innocence will relieve you of burden and trouble in an adult life.
However, the host city of 2015 China Today Arts Week was not Prague but a strange city whose name is not familiar either—Pilsen. With a distance of some 90 kilometers to Prague, Pilsen is famous for auto industry and beer brewery. Three years ago, Pilsen went through a fierce competition and won the title of "2015 European Capital of Culture (ECC)". Similar to Olympic Games in sports, ECC derives from Greece as well and gradually evolves into a cultural "Olympics" in Europe. In the whole year of ECC title, over 600 events will take place in Pilsen so that the local cultural highlight, development and innovation in culture will be fully demonstrated. In the meanwhile, artists from all over the world will be invited here for performance and exhibition. It is also the first time that China Today Arts Week has been presented in such a high-end platform in Europe, which is undoubtedly a rare opportunity to seize.
On the evening of July 2, 2015 China Today Arts Week was unveiled in New Theatre of Pilsen. Jointly sponsored by CFLAC, Chinese Embassy to Czech Republic, Czech China Friendship Association, Pilsen state and municipal governments and the Organizing Committee of ECC, the Arts Week mainly consisted of Peking opera performance, photo exhibition and comic and animation exhibition. Distinguished guests present at the opening ceremony were Mr. Li Qianguang, vice president of CFLAC, Ms. Katerina Kalistova, 1st vice minister of Czech Ministry of Culture, Mr. Lukas Kaucky, 1st vice minister of Czech Ministry of Foreign Affairs, Mr. Martin Zrzavecky, mayor of Pilsen city, Madame Ma Keqing, Chinese Ambassador to Czech Republic, Mr. Jaroslav Tvrdik, president of Czech-China Friendship Association and Mr. Jiri Suchanek, president of Organizing Committee of ECC in Pilsen. Furthermore, foreign diplomats in Czech Republic, representatives from all walks of life and overseas Chinese compatriots in Pilsen attended the opening ceremony. In the wake of the opening ceremony, the traditional Peking opera Legend of Lady White Snake (LLWS) by Tianjin Peking Opera Theatre (TPOT) premiered. With an accommodation of approximately 400 people, the New Theatre of Pilsen was filled to its capacity. With the guidance of Czech subtitle, local audiences were fully absorbed into the performance. The Chinese artists' vivid acting and consummate technique aroused the audiences' acclamation and applauses.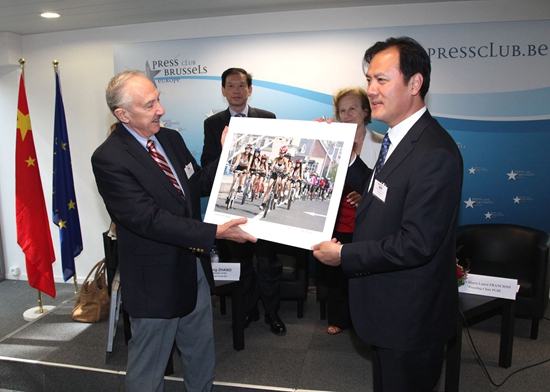 Charm of Peking Opera
It is already 12 years since China Today Arts Week was initially promoted by CFLAC, and it is still the first time that Peking opera has been staged in such overseas venues as Europe. Within the three successive sessions of LLWS in Pilsen, the remaining two sessions after the premier allowed admission open to the public. With the tickets sold out in a short time, the performance witnessed an overwhelming popularity. In order to express their recognition and favor of Chinese artists' excellent performances, the local audiences would all stood up to give a long applause at the end of each performance and Chinese artists even responded to the curtain call for four times.
"By bringing Peking opera, quintessence of Chinese arts to Czech Republic, we expect to further strengthen the friendship and mutual understanding between Chinese people and Czech people. Along with the deepening of friendly bilateral relationship between China and Czech, today's excellent performance and cultural exchange between East and West will definitely promote understanding and friendship between the two countries." Li Qianguang commented. At the very beginning when CFLAC tried to select contents of performance for 2015 China Today Arts Week, there did exist some doubts about the feasibility of Peking opera. It is true that Peking opera is a comprehensive performing art of Chinese traditions and thus quintessence of Chinese culture, but it still remains to be a strange art form for Czech people who have hardly knowledge about it. In the meantime, Czech enjoys a comparatively high level of culture and arts among the countries in the Middle and East Europe. Thanks to various researches and opinion inquiry undertaken by International Liaison Department of CFLAC, Peking opera was finally decided as the main form of performance in 2015 China Today Arts Week. Then another question was raised, that is, among so many theatres and classic repertoires of Peking opera, which team of high artistry is supposed to stage which story as a reflection of the core values of China? As Cui Wei, deputy secretary general of China Theatre Association (CTA), recalled, TPOT, commonly acknowledged as an outstanding cast with a young yet experienced lineup and along with its distinct performance of LLSW, became the best candidate at last. All those actors and actresses in their 30s have shown great artistry and artistic effects out of their loyal inheritance and ingenious inspiration from Peking opera art.
Generally speaking, in China, the performance of LLSW will last nearly two and a half hours. Nevertheless, the usual practice in Czech Republic has it that the performance at local theatre is of no more than two hours with intermission calculated. In the light of this practical situation while enabling Czech audience to appreciate the charm of Peking opera such as melodious vocalism and elegant dances of inpidual and group, TPOT, based upon its overseas performing experience, managed to cut down into a version of one hour and a half. Within such limited time, all elements of Peking opera were fully demonstrated and the whole story was phrased for audiences' comprehension as much as possible. As Mr. Zhang Zhengqiu, vice president of TPOT, put, it was really a special edition of LLSW exclusively for Czech audiences.
After the premier, many VIPs from Czech side couldn't help telling us their impressions. As Ms. Katerina Kalistova commented, the first Peking opera performance ever in Pilsenthe traditional Chinese performance will definitely add to the wonderful events in this city of ECC title in 2015. Despite a long distance from each other, Czech Republic and China have a lot in common, especially in that both countries are blessed with abundant cultural resources and plenty of cultural heritages. The significant potential in such abundance and variety provides a spacious prospect for cultural exchange and cooperation. "Czech public has a great demand and love of Chinese culture. We have heard a lot, but our experience is still limited. Therefore, many people will get fascinated with such a great performance and they would like to feel it by themselves. As culture is a bridge between hearts of the two peoples, there will be a giant potential in cultural cooperation." Mr. Lukas Kaucky said.
Wang Yan, the leading actress of LLSW from TPOT, said, "With this play, I expect to bring an amazing experience to Czech audiences because this play was a classical one that we have been rehearsing with each other ever since we were recruited into TPOT at a young age. It demands a profound proficiency in Peking opera and my teacher Liu Xiurong has always been instructing me on acting, rehearsal, revision and reconsideration. This time, together with art supervisor and director, we made a special edition particularly for Czech audiences". As Czech audiences expressed, love is a universal theme though artistic indication may vary according to different cultural background. For example, the romantic imagination of a snake lady in this Chinese fairy tale seems to contradict with the usual evil representative of a snake in Western culture. Nevertheless, such a psalm in favor of ideal love and perseverance has aroused a great sympathy across the cultural barrier.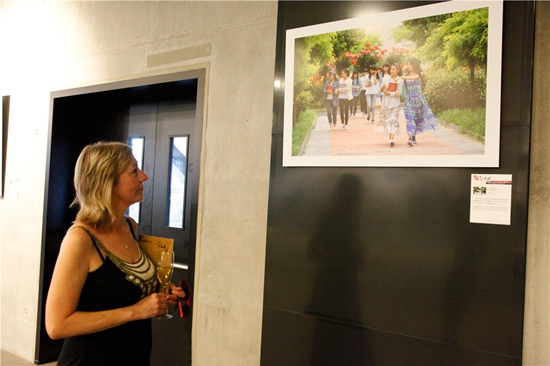 From Peking Opera to Exhibitions of Photography, Comic and Animation
The premier of Peking opera LLSW witnessed a great success as the wonderful myth and love story was of national and global appeal. Foreign audiences were able to experience the unique beauty in Peking opera's forms of expression as well as the emotional dignity of figures in the story. Since the Peking opera LLSW illustrated the traditional image of Chinese women in mythology and ancient times, a photo exhibition in reflection of the contemporary Chinese women's profile was designed so as for Czech people to understand the constant changes happening to Chinese women in the national context of social development and further to learn about the current development of China.
Before 2012, China Today Arts Week sponsored by CFLAC was usually limited within a certain foreign country. Lately, CFLAC reformed its way of thinking so that the influence of Arts Week in a certain country could be possibly expanded to a neighboring country. The trial practice in 2013 and 2014 achieved a satisfactory result. Moreover, this year coincides with the 40th anniversary of diplomatic relation establishment between China and EU, and Brussels, location of EU headquarters, is within a distance of 1000 kilometers away from Pilsen. Thanks to the great support advocated by Madame Yang Yanyi, Chinese Ambassador to EU, 2015 China Today Arts Week was expanded to Brussels as part of the 1st "China-EU Cultural Festival". As Belgium is a country of comic and animation and Brussels is reputed as capital of comic, a selected exhibition of Chinese comic and animation was designed to this purpose.
In Brussels, a capital of comics, great importance is attached to originality and therefore the original manuscript of comics will be the best choice. The whole crew of curatorship made their utmost efforts to collect nearly 100 pieces of manuscripts and realized an exhibition with considerable manuscripts. Those original hand-painted works by three generations of Chinese comic artists, especially those under the specific Chinese styles, stories, figures or scenes, highlight the paramount level of Chinese original comics.
2015 China Today Arts Week is a stage to showcase excellent Chinese traditional culture and share Chinese artistic development, a window to enhance understanding and friendship between peoples of China and Europe, and actual implementation of Asia-Europe friendship and cooperation project. CFLAC will take this opportunity, together with cultural and art bodies, artists and institutions in favor and support of arts in Europe, to better exchange and cooperation and make a positive contribution to realizing the mutual reference, friendly communications and common development of the two civilizations.