On the Success of 2016 'China Today' Arts Week in Mauritius and Reunion
A Rainbow and A Thunderbolt of Art Dedicated by Chinese Artists:
On the Success of 2016 'China Today' Arts Week in Mauritius and Reunion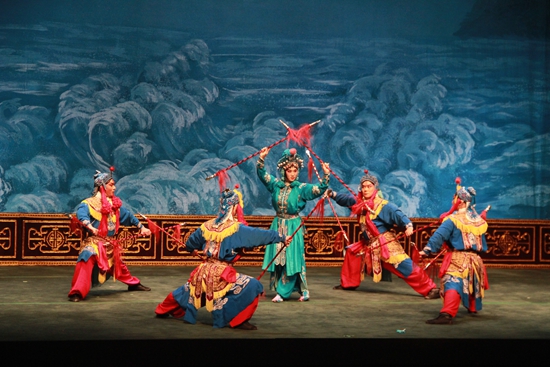 Presentation of Legend of Lady White Snake in Port St. Louis, Capital of Mauritius
From July 4th till 10th, the 2016 'China Today' Arts Week, as its first occurrence in the African countries and regions in the South Indian Ocean region, witnessed a great success in Mauritius and Reunion Island.
On the evening of July 5th, the 2016 'China Today' Arts Week, jointly sponsored by CFLAC, Chinese Embassy in Mauritius and Ministry of Arts and Culture of Mauritius, was launched at Chinese Culture Center in Port Louis, capital of Mauritius. The Arts Week incorporated three sections, namely Peking Opera Performance, Chinese Film Show and 'Panorama of Xinjiang' Fine Arts and Photography Exhibition. Through various art forms, it presented China in both antiquity and modernity to the Mauritian people, dedicated a banquet of Chinese culture and brought about a Chinese fashion in Mauritius. It has become the largest event of Chinese culture achieving the biggest influence in Mauritius in recent years.
On that evening of the opening ceremony in Mauritius, more than 100 celebrities, overseas Chinese compatriots and local residents gathered in the yard of Chinese Culture Center to witness this significant art event together with Chinese artists who had traveled afar.
H.E Ameenah Gurib-Fakim, President of Mauritius, attended the opening ceremony and delivered a welcome speech. As she put it, for the long established China-Mauritius friendship, there has always been close cooperation in the fields of arts and culture. 'As an unprecedented event in culture, this Arts Week will help the Mauritian people to know more about Chinese culture and to a considerable degree, enrich the persified cultural development among the varied ethnic groups in Mauritius'. In the wake of the opening ceremony, the President observed fine arts and photography exhibition as well as Peking opera performances of the Arts Week with a great interest.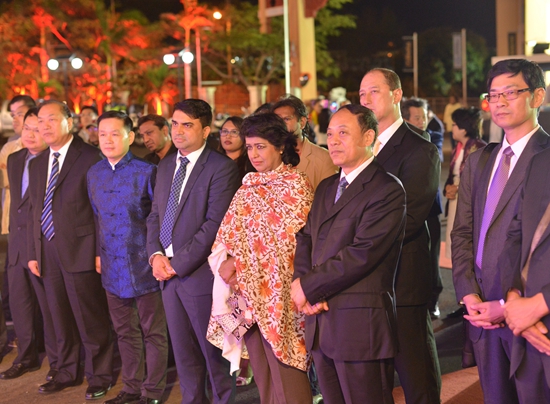 'Despite the long distance across sea and ocean, China and Mauritius enjoy a profound friendship among their peoples'. As Xia Chao, vice president of CFLAC, expressed in his speech at the opening ceremony, it is believed that the holding of Arts Week in Mauritius will further promote communications and exchanges between China and Mauritius in various art fields, and enhance understanding and friendship between artists and peoples of the two countries. Taking this Arts Week as an opportunity, he looked forward to a new chapter in the cultural and art exchange between China and Mauritius.
Li Li, Chinese Ambassador to Mauritius, and Baboo, Mauritian Minister of Arts and Culture delivered speeches as well. Other distinguished attendees at the opening ceremony were local heavyweights such as Wang Chunwan, Mauritian Minister of Public Service Affairs, and chiefs of Chinese agencies in Mauritius such as Song Yanqun, director of Chinese Culture Center in Mauritius as well as Chinese artists such as Xiang Yunju, Cui Wei, Li Enjie, Li Jingfu, Huang Yongjun, Zhang Xihai, Yang Fahang and Ding Jie.
Peking opera performance was the leading part of this Arts Week. Peking Opera House of Beijing (POHB), one of the key state-level Peking opera companies with largest cast and most profound artistry in China, staged two highlights The pergence and The Conspired Banquet as well as a full-length play Legend of Lady White Snake. In particular, the full-length Peking opera performance, which was rarely seen abroad, became the focus of local people. Soon after the successful presentation of the two highlights at Chinese Culture Center in Mauritius on the evening of July 5th, the full-length play Legend of Lady White Snake was staged on the next evening at J&J Auditorium, the largest one in Mauritius. This ancient romance from China exquisitely featuring such Chinese artists as Li Hongtu, Guo Wei and Chen Yu, showcased the full artistic charm of Chinese Peking opera. All the 2300 seats on the ground floor of J&J Auditorium were virtually occupied and Mr. Showkutally Soodhun, Vice Prime Minister of Mauritius, came on a special visit to watch this performance as well.
As one of the leading artists of Peking opera, Li Hongtu, a Class-A state actor of POHB and the famous inheritor of Ye School in performance acted as Xu Xian in the Legend of Lady White Snake and General Lv Bu in The Conspired Banquet. He said in an interview, 'Though Peking opera is a traditional art and the plot is a traditional story, we must present our performance in every detail so that overseas audience can feel the soaring spirits of today's Chinese people, especially of the Chinese Peking opera artists. And that is just the unique strength of "China Today" Arts Week'.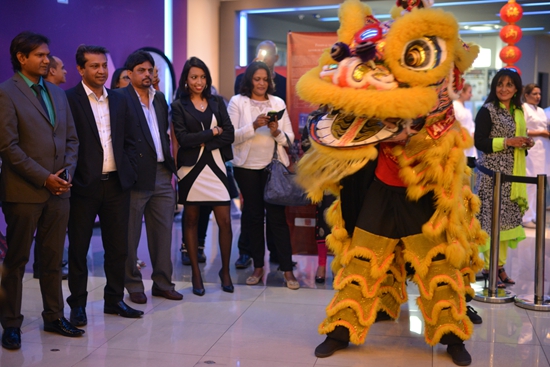 'This is a solid performance.' Lin Mangu, an overseas lady with Chinese origin acclaimed after the performance. As she told us, her ancestor came from Mei County of Guangdong Province and settled in Mauritius. She was already among the third generation after the family migration. This time, she specially took her daughter and granddaughter to watch the performance. She could speak mandarin and write characters while her daughter could only speak mandarin and her granddaughter could neither speak mandarin nor write characters. Nevertheless, her family still preserves a passion for Chinese culture and would occasionally enjoy Peking opera. Soon after the end of the performance, Lin immediately asked her granddaughter if she liked the performance. To our surprise, her granddaughter nodded in delight.
As a part of the 2016 'China Today' Arts Week, the Chinese Film Show took place in Mauritius on the evening of July 4th. China Film Association brought five excellent Chinese films, i.e., Norjmaa, Walking to School, Finding Mr. Right, Police Story 2013 and Silent Witness to the local audience. The 'Panorama of Xinjiang' Fine Arts and Photography Exhibition was launched on the evening of July 5th. 30 paintings and 60 pictures of distinct local style, national feature and contemporary spirits were selected by Xinjiang Federation of Literary and Art Circles (XFLAC). These exhibits presented magnificent landscape in Xinjiang, the local people's spiritual outlook of solidarity, harmony and enterprising endeavors as well as their devoted love for their hometown and motherland.
Reunion is an overseas region of France and gains its global reputation for its unique cirque topography and volcano landscapes. From July 8th till 10th, the Arts Week, jointly sponsored by CFLAC, Chinese Consulate General in Saint Denis and a series of local departments in Reunion, was successfully held with two sessions of Peking opera Legend of Lady White Snake were staged and the 'Panorama of Xinjiang' Fine Arts and Photography Exhibition which was on show for almost a month.
On July 8th, the Arts Week was officially unveiled in Saint Denis. Distinguished guests such as Xia Chao, Vice President of CFLAC, Dominique Sorain, Prefect of Reunion, and Guo Wei, Chinese Consul General in Saint Denis delivered speeches respectively and extended congratulations on the Arts Week. Other attendees at the opening ceremony were local celebrities from all walks of life in Reunion, representatives of overseas Chinese compatriots and Chinese artists.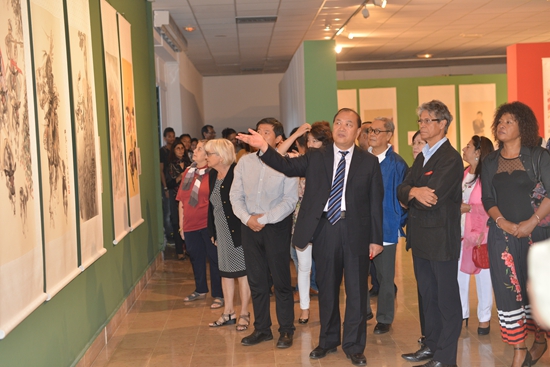 As Xia Chao expressed in his speech, China and the Reunion region of France have long been on good terms, and Reunion, after Paris, has become the second largest inhabitance of overseas Chinese in France. Both elements provided a solid foundation for the success of the Arts Week. It was firmly believed that the holding of 'China Today' Arts Week in Reunion will promote cultural exchanges between China and Reunion, and enhance friendly communications between artists and the peoples.
In his welcome speech, Dominique Sorain shared his delight to witness that France and China were closely connected by the bond of culture. China has its significant position in Reunion and the local Chinese residents have imbued an Asian color into the multi-elemental culture in Reunion. By attending this event, the local audiences in Reunion would discover the Chinese artists' exquisite skills. Their imagination about China would gain a realistic reflection.
That evening, Peking opera Legend of Lady White Snake witnessed a great success in Theatre Fleur. 900 seats were fully occupied by local audiences. 'They really understand the whole plot!' Guo Wei said in excitement. In Act 1, the hero and heroine encountered, in Act 2 they got married and in Act 3 the heroine was already with baby. Such a rapid romance aroused some understanding laughter in the theatre from time to time, which proved that local audiences already grasped the essence of Peking opera, such as the transition of time and space and the abstract expressions. 'Many foreigners came to tell me that they found both the costumes and singing in Peking opera amazingly beautiful. They were so fascinated with this classic art of China that after the show, fairies of White Snake and Green Snake still jumped into their mind all night. Like a rainbow or a thunderbolt, Chinese artists have amazed the whole Reunion.' Guo Wei concluded.
On July 10, in response to the special invitation of local Chinese compatriots, Peking opera performance Legend of Lady White Snake was also staged in Tampon City at the southern tip of Reunion Island. It was quite a coincident that the performance was scheduled to take place three hours before the final of 2016 Europe Cup (France vs. Portugal). Though local people showed a great passion for French team in this final, we didn't find any faded interest among local audiences. To our surprise, the theatre was filled to its capacity and even after the performance, instead of hurrying back home to get ready for the soccer final, all the audiences stood up and applauded for quite a long time for the Chinese artists' impressive performance. A math teacher of a local high school particularly came onto the stage and communicated with the Chinese team leaders with great interest. 'I'm fully aware that Chinese students are excellent at mathematics, but I never expect Chinese arts to be so amazing. 'He joked. This Frenchman in a standard white-male stature told us sincerely, his wife was an artist and in such a tiny island as Reunion, local culture seemed to be less interesting. Therefore, he expected more art exchanges from China. During the Chinese artists' visit in South Reunion, André Thien Ah Koon, mayor of Tampon City, i.e., the only mayor and the only congressman of Chinese origin in France, met with the representatives of Chinese artists.
'Panorama of Xinjiang' Fine Arts and Photography Exhibition was held in Reunion at the same time. Local media in Reunion Island paid considerable attention to the Arts Week. On July 8th, a press conference on 'China Today' Arts Week in Reunion was held. Xiang Yunju, Head of Chinese Peking opera troupe and President of China Art News, Cui Wei, Deputy Head of the troupe and Secretary General of China Theatre Association, Li Enjie, Deputy Head of the troupe and President of POHB, Huang Yongjun, Head of Xinjiang fine arts and photography delegation, Vice President of XFLAC, as well as visiting Chinese artists had face-to-face communication with many local media people. Prior to the launch of the Arts Week, some local media conducted a session of warm-up publicity in an all-round way. Soon after the premiere of Peking opera, more detailed reportage in high acclamation was visible in many newspapers and magazines. Some local papers even provided a full page for the Arts Week highlights so as to enhance its influence and popularity.
'China Today' Arts Week is a non-profit exchange event sponsored by CFLAC to comprehensively showcase the contemporary Chinese culture and arts abroad on an annual basis. Initiated in 2004, 'China Today' Arts Week has brought various art performances and exhibitions to such countries as Canada, Greece, Australia, Austria, Japan, Egypt, Chile, Sweden, USA, Thailand, Cambodia, Monaco and the Czech Republic.