The 9th CIFAF(in Yichang)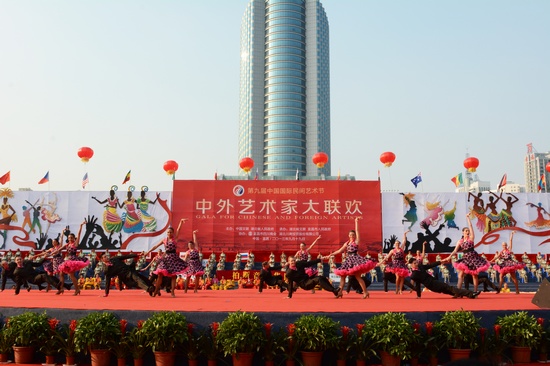 Art Supervisor of Utah Valley University Ballroom Dance Company of USA performanced in Yichang
Cultures conduct dialogues in collision and friendship is enhanced in exchange. In recent days, the 9th China Folk Arts Festival (CIFAF), jointly sponsored by CFLAC and Hubei Provincial Government, has been staged in Yichang City of Hubei Province and Beijing. More than 300 artists of varied races, languages and colors gather together from 14 countries including China. Hand in hand and heart to heart, those artists present their performances on professional stage and temporary venues in the community, rural areas, campus and square, and conduct exchange and interaction with the local art ensembles, mass people, students and teachers of universities. In adherence to the principle of frugality and audience-orientation, CIFAF dedicates many excellent performances of distinct features to local people with its international, folkloric, national and mass characters, enriches their spiritual experience in culture and raises their index of happiness. Moreover, CIFAF has become a platform for artists both at home and abroad to better mutual understanding and exchange experience on skills, which significantly promotes the exchange and integration of Chinese arts and culture with the counterpart of the other countries in the world.
Frugal, still Wonderful
On the evening of September 16, the 9th CIFAF, along with the 4th China Yangtze River Three Gorges International Tourism Festival and the 3rd China Yichang Yangtze River Piano Music Festival was launched simultaneously at Yichang Municipal Stadium in Hubei Province.
Over 300 folk artists from 14 countries of the five continents as well as tens of thousands of citizens of Yichang City witnessed the opening of the 9th CIFAF that presented excellent national expressions of different cultures. To their surprise, the opening ceremony of such three international events lasted no more than 10 minutes and not a single superstar appeared in the following folk art performances.
According to Wang Yinghua, vice mayor of Yichang City, in the light of the principle of frugal organization, audience priority and development orientation, those three festivals, which used to be arranged consecutively in September, October and November, have been reorganized in mid-September. Besides, the scale of opening performance is cut down by not inviting superstar in high price and cancelling over 10 luxury items such as fireworks, water curtain, gushing fountain and high-altitude singing. In the end, the total expenses on the opening ceremony have been reduced by 2/3.
Then where has the saved money gone? As Ran Jincheng, deputy director general of publicity department of Yichang CPC Committee, introduced, the Municipal Government has decided to invest all the saved money into the Project of Culture for People's Interest. A great majority has gone to the construction of public cultural infrastructure and the rest will be used to organize interaction between pianists and local music amateurs, tour performances into the community, school, rural areas, enterprises and scenic spots and piano recitals for citizens free of charge.
At the opening ceremony, one can easily find simple stage and practical lighting designs, both of which are obviously outcome of Frugality Campaign. Besides, as one of the features of CIFAF, a series of Grass-roots Experience events have been held in Yichang, Beijing and their neighboring communities and schools, where art ensembles from 13 foreign countries conduct exchange and interaction with local audience and folk artists. In a sense, this CIFAF belongs to the local people who really deserve such happy enjoyment. In the whole course of CIFAF, folk artistic backbone from all over China and ordinary citizen have become leading roles in manifesting varied folk dances such as Bashan Dance, Stool Dragon, Huagu Dance and Baiyangdian Stilts on this stage of folk arts exchange between China and the world.
"We totally support their frugal organization of this festival! In the past we could only watch performances on TV, but this year, those foreign artists have entered our community or villages to perform face to face with us so that we can enjoy varied folk arts and cultures in the world just at our threshold, to which we have been looking forward for a long time." Wu Jing, resident in Shibanxi Community, Xiling District, Yichang said in excitement.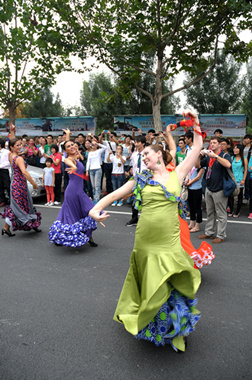 Flamingo Ballet of Spain performanced on the campus of Hebei University of Technology
Audience's Benefit:
Enjoy Exotic Folk Expressions at Threshold
On the afternoon of September 15, the sun in the autumn was still burning at Yichang. However, many students and teachers had gathered at Qinyuan Square of Three Gorges University, waiting for their counterpart from Utah Valley University Ballroom Dance Company of USA, a participant group in the 9th CIFAF. During the exchange, they learned ballroom dance and Bashan dance of Tujia ethnic group from each other and made friends and dance partners as well. They danced to their hearts' content at the square along with constant cheers from both sides. Those young people's wonderful dances ignited the audiences' passion, which constituted a joyful and enthusiastic atmosphere.
Axi Lancuo, a Tibetan student from Three Gorges University, showed his extreme excitement, "This is my first time to dance with foreign artists, and this experience will enrich my knowledge and broaden my vision. I will remember this special day for good!" Tale from American side told the reporter in joke, "The passion of Yichang people is as hot as the weather here".
On the morning of September 16, the folk art ensembles from Australia and Czech Republic visited Intangible Cultural Heritage Protection Center of Mass Art Institute of Yichang City. Standing in front of the statues of Qu Yuan and Wang Zhaojun, they raised one question after another to the guide Bai Xiaoping, only to make their interpreter sweat a lot. After a while, an Australian artist began to strike the displayed drum and gong while some Czech members urged the guide to teach them how to play Suona and Horn. On the spot, all these foreigners tried to savor the Green Tea of China and they found it fantastic beyond praise. They also expressed their amazement toward the abundant folk arts in Yichang. In the hall at the ground floor, the resounding Xingshan Ballad and magnificent Zigui Huagu Dance attracted many foreign artists. Yu Changkun, coming all the way from the home town of Wang Zhaojun, said, "This is quite a rare opportunity for me to exchange with foreign folk artists on how to inherit 'Three-sound Song' in a better way".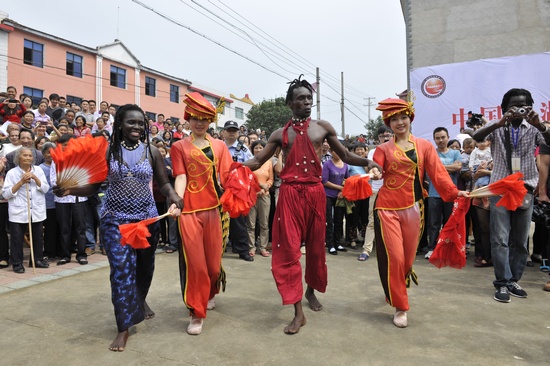 Ballet Silaba of Senegal performanced in Yichang
Also on the morning of September 16, the square of Liberation Road Community of Yichang was fully crowded with songs and laughter because National Art Company of Pakistan came to have gala with the residents. Their excellent performances aroused applauses from time to time. An elderly called Xu Rang, though in his 70s, was wet with sweat all over. He would arrange community amateur dancers to learn from Pakistani artist in pairs and later turn to the interpreter for explaining how to present dance of Tujia ethnic group. "How can I imagine that I can enjoy the world top folk arts at my threshold? Though I have to move in and out, I feel happy from the bottom of my heart!" he uttered his feelings shared by all his neighbors.
On September 18, artists from Senegal visited Jiandong Village of Zigui County, hometown of Qu Yuan. Happily Li Sheng, secretary of Jiandong CPC Committee, told the reporter, "Those who work in towns take special leaves and those working in the field return home, just to enjoy foreign artists' performance, which is the first time in history. It is a must-see for everyone here". Han Yongling, at the age of 84, sitting in the first row still beat the rhythm with these words, "It's my first time to see foreigners. Their dance is so energetic and dynamic. Wonderful".
The acters from Al Tannoura Troup of Egypt danced with their friends
On the afternoon of September 19, the Grand Gala of the 9th CIFAF was staged at Yiling Square of Yichang. Along with joyful dragon dance and lion dance, the song Joyful Singing at Time of Prosperity unveiled the gala. The traditional songs from Russia, Flamingo Dance from Spain, the Cappella Choir from Mexico and Tannoura Dance from Egypt…all the above excellent programs dedicated by artists from 13 foreign art ensembles constituted an audio-visual feast of strong local characters to Chinese audiences. With lasting cheers and applauses, Yiling Square became an ocean of happiness.
At the end of tour performances, artists of different countries, nationalities and colors will invariably invite local audiences to dance with them to the music as a way of celebration. As Li Qianguang, member of Executive Committee of CFLAC, introduced, this is the very charm and character of CIFAF. "CIFAF will provide an opportunity for foreign artists to know about our country and nation. They will get off the stage and go deep into the public. At the same time, our local people will vividly learn about varied nations and cultures at a closer distance. This is just what we call "People Connection".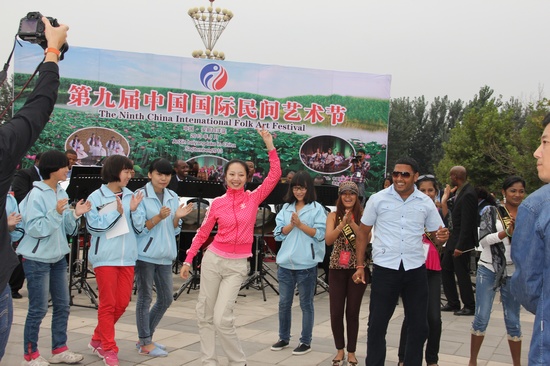 The actors and audiences' interaction
Folk Art for Folk Sake, Sharing is Happiness
From September 21 till 25, the 9th CIFAF moved from Yichang to Beijing where the art troupes presented 7 performances of various series with exchange and interaction with local audiences as well as teachers and students in university. On September 21, the organizing committee specially arranged Chinese Culture and Arts Experience Day in which some excellent Chinese culture and arts such as Chinese national craftsmanship, traditional calligraphy, painting and acrobatics were showcased and introduced.
When steel drum was arrayed at tourist dock and country music was played in Baiyangdian, you were actually in part of the 9th CIFAF. On September 22, at tourist dock of Anxin County of Hebei Province, the 9th CIFAF tour in Baiyangdian jointly sponsored by CFLAC and Hebei Federation of Literary and Art Circles witnessed local people's passion for arts and fairyland scenery. More than 120 folk artists from Mexico, Mongolia, Senegal, Trinidad and Tobago and Czech Republic, in cooperation with folk artists in Anxin County, dedicated an international art feast of colorful presentations.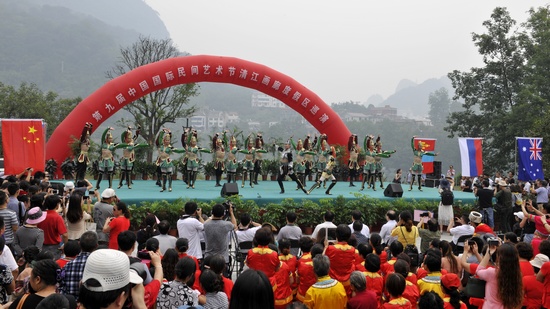 National Folk Song and Dance Ensemble of Mongolia performanced in Yichang
In the performance, the William Tell Overture played in steel drum by Trinidad and Tobago National Steel Symphony Orchestra made a perfect beginning of the tour. Strong rhythm, passionate emotions and shocking sound brought people in Anxin to feel the charm of carnival and the soul of African drum beat. The Drum Dance and Lion Dance dedicated by Ballet Silaba of Senegal demonstrated African expressions full of vitality, which was quite new to Chinese audiences. Violin and Singer Performance by Folk Dance Group "Salajka" of Czech as well as Slovakia New Soldiers Dance listed into the intangible cultural heritage by UNESCO added splendor to the tour. In A Cappella style of Mexican choir, Stranger in the Darkness and Drunk in Mezcal enabled the audience to experience the magic and charm of human voices. The programs Throat Singing and Sart Falcon performed by National Folk Song and Dance Ensemble of Mongolia fully manifested their optimism and military bearings with extreme tension.
After foreign artists who traveled from afar manifested their own national treasures, the folk artists in Anxin County presented all their classic works in return. As an item of Intangible Cultural Heritage in Baoding City, Baiyangdian Fire Fork Performance was breathtaking and experienced. Similarly, Baiyangdian Stilts, with a history of century, played by Immortality Stilts Song and Dance Company showed difficult techniques, which aroused foreign friends of different colors to cheer and applaude.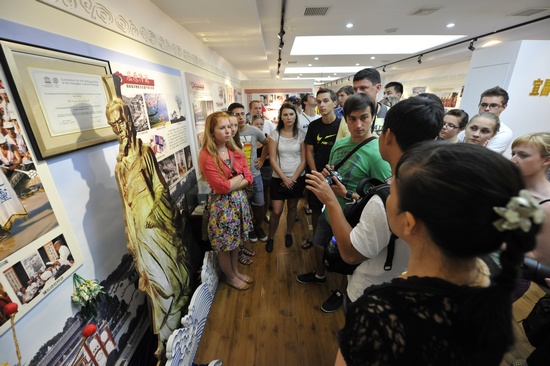 Folk Dance Group "Salajka" of Czech visited the Yichang Intangible Cultural Heritage Museum
"As to the question of art, I prefer the art that can touch people and bring happiness to viewers. CIFAF was effective because it enables the art to blossom in theatres as well as in the square. It brought folk arts back home and provided the possibility of different countries to understand each other's arts. Otherwise how can we bring those programs to China and how can people at a distance learn to appreciate arts of varied countries in the world?" Ah Dawahu, art supervisor of National Folk Song and Dance Ensemble of Mongolia and choreographer of the dance Sart Falcon.
Shao Shuntian, at the age of 86, had occupied the best location long before the performance began. Later we found out that there were heirs of Baiyangdian Stilts for 4 generations in his family. "I am the coach of today's team and my grandson and his wife are in this team as well. This time our team will go out for the best not to lose faces before those foreign artists." Shao Shuntian narrowed his eyes into a smile in confidence.
On the same day, the other 120-odd artists from the troupes of Poland, Egypt, Australia, Pakistan, Ethiopia and Spain came all the way to Hebei Industrial University to present performances for the teachers and students and joined the art ensembles of the university in gala and interaction. "This performance really widened my vision! "Mu Shiwei and many of his fellow students expressed their feedback after viewing the Campus Tour Performance of the 9th CIFAF, jointly sponsored by CFLAC and Hebei Industrial University. "Usually our cultural life is nothing more than enjoying pop music and watching movies on line and we have scarcely time to watch live show. As to performances, they are mainly organized by our peers and only between students. It is my first time to appreciate so many excellent programs by foreign artists. Such wonderful performances really widened our vision." Mu told the reporter still in excitement after the performance.
On September 23, the foreign art troupes were divided into two parts respectively to Beijing Foreign Studies University and Yuting Park in Dongcheng District of Beijing to perform for teachers, students and community residents. As a saying goes, folk culture never stops its steps in folk community and sharing becomes happiness. According to Dong Zhanshun, director general of organizing committee of the 9th CIFAF, no matter the brief opening and closing ceremony, or various tour performances deep into public, have changed this festival into a gala for the whole society. No matter in experiencing the unique charm of traditional Chinese culture or national folk cultural reproduction with local expressions, CIFAF fully represents its international and folk character and significant participation, and therefore proves the glamour of non-governmental cultural diplomacy in China.