Bring about a Better Future of Chinese Stage Arts in Exchange
Bring about a Better Future of Chinese Stage Arts in Exchange
——Overview of the 8th Chinese Art Forum of Mainland, Hong Kong, Macao and Taiwan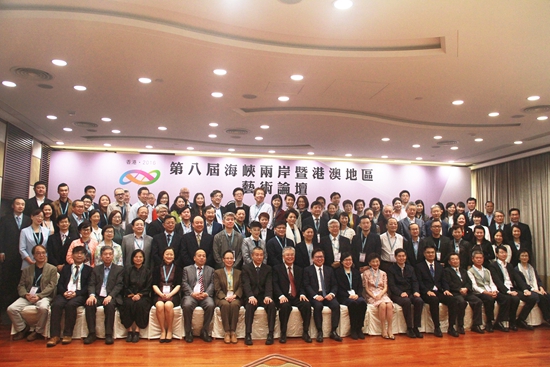 How can we handle the relationship between inheritance and innovation in a scientific way in stage arts? How can those advantages of other arts be absorbed and integrated so as to enhance ways of expression in a certain art? How can the latest scientific achievement be fully utilized? How can we tell a good story of China, utter the voice of China and elaborate Chinese characteristics? From November 1 till 3, the 8th Chinese Art Forum of Mainland, Hong Kong, Macao and Taiwan took place in Hong Kong and over 100 celebrities and experts from the above four regions attended the related events.
Distinguished attendees at the opening ceremony of the Forum were Guo Yunde, vice president of CFLAC, Wang Yingwei, president of HK Arts Development Council, Ji Guoping, executive vice president of China Theatre Association, Dong Zhanshun, director general of Hong Kong, Macao and Taiwan Affairs Office of CFLAC, and the responsible leaders from related parts from Ministry of Culture, Liaison Offices of Central Government in HK/Macao and Home Affairs Bureau of HK.
Guo Yunde delivered a speech at the opening ceremony. As he expressed, the current world is facing a complicated situation with significant development, evolution and adjustment where various thoughts of culture have conducted an in- depth exchange and a fierce collision and the age of Internet has posed a great challenge and influence onto the creation, production and distribution of literature and arts. In order to fulfill our cultural responsibility, we, in the forefront of the time progress, are required to excavate the profound connotation of Chinese traditional culture so as to achieve powerful spiritual motivation, better the national recognition in culture and endeavor for realizing the contemporary China's cultural wonder. We are required in firm determination and innovative manner to promote the combination of traditional culture with time spirit and contemporary scientific technology and media so as to build up literary and artistic works and brands as the landmark of the current period. We are required to absorb all the excellent parts of varied civilization in a bold manner while preserving the essence of tradition so as to retain the everlasting vitality of national culture and realize the great cultural revival of Chinese nation in the future.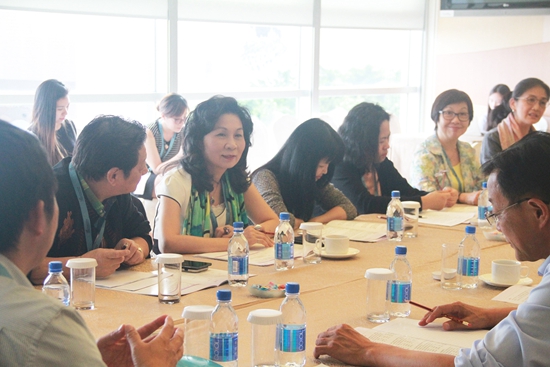 Jointly sponsored by CFLAC and HK Arts Development Council and under the theme of "Stage Arts and Chinese Cultural Image", this Forum involved various stage arts such as theatre, music, dance, Chinese Quyi and acrobatics. On several occasions such as keynote speech, group discussion and roundtable talk, this Forum witnessed many profound and enthusiastic exchanges of views concerning such topics as Artistic Performance and Emotional Communication, Crossover and Innovation of Contemporary Arts, Traditional Arts and Contemporary Inheritance, Cultural Value in Traditional Stage Arts, Multi-element Expressions of Chinese Stage Arts and Inheritance Approach of Traditional Stage Arts.
The keynote speech part on the morning of November 1 was presided over by Professor Yu Shaohua from Lingnan University in HK. Such experts and scholars as Deng Wanxia, Wu Wenke, Yu Yigang, Guo Meinv, He Junni and Deng Shurong shared their own research achievement and understanding concerning the root of Chinese arts, cultural image of Chinese Quyi, new outlook of traditional Chinese culture in the universal language of acrobatics, essence of musical expression in minority ethnic group's traditional ritual in Taiwan and traditional inheritance and innovative development in dance education.
On the afternoon of November 1, group discussion concerning related issue took place among artists and experts such as Shen Tiemei, Tan Rongbang, Li Yuliang, Zhang Hong, Zheng Peikai, Cai Xinxin, Ye Yijun and Zhang Zongzhen. Their remarks reached a consensus that stage arts of the current period are confronted with such topics as inheritance and innovation. On the basis of deep understanding, research and inheritance of excellent Chinese cultural and aesthetic traditions, artists are supposed to achieve a close combination and effective integration with the practical development so as to tell a good China's story by means of a novel Chinese expression.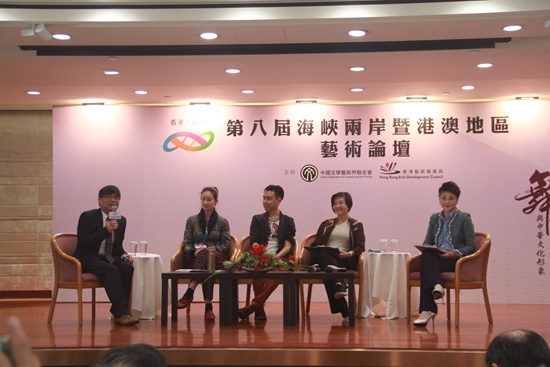 On November 2, roundtable talk under the theme of "Chinese Stage Arts in the 21st Century" was presided over by Lu Weili, member of HK Arts Development Council and associate professor at Film Academy of Hong Kong Baptist University. Artists and experts such as Wang Yabin, Li Junjie, Lin Xiuzhen and Liu Huiming conducted an in-depth exchange and elaborated from their own perspective of art or research practice on some key words of Chinese stage arts in the 21st century in a passionate atmosphere.
In the following days, the participant experts and artists visited Cultural District of West Kowloon, Hong Kong Dance Company, Hong Kong Repertory Theatre, Hong Kong Chinese Orchestra and Hong Kong Academy for Performing Arts so as to learn about the current situation of art development in HK.
"In sharing, we have broadened vision and inspired wisdom; in the exchange, we have reached a firm self-confidence and a strong sense of responsibility in culture; in the interaction, we have gained a better understanding and friendship." Ji Guoping concluded as the summary of this Forum. Great ideas and wonderful imagination sparkling during the collision of various new viewpoints and ways of thinking will probably bring about a better future of Chinese stage arts.
Ever since 2009, this Forum has witnessed a consecutive success in the previous seven sessions in Haikou, Taipei, Macao, HK, Chengde and Taichung. As a sound academic exchange platform set up for artistic creation, theoretic research and critics, this Forum has produced an extensive impact on strengthening and expanding mutual communication and coordination, exploring development principle of Chinese literature and arts, enhancing cultural pride and self- confidence of Chinese nation and promoting Chinese arts in the global arena.