Believers, Inheritors and Practitioners of Chinese Culture
Believers, Inheritors and Practitioners of Chinese Culture
——on the 7th Chinese Art Forum of Mainland, Hong Kong, Macao and Taiwan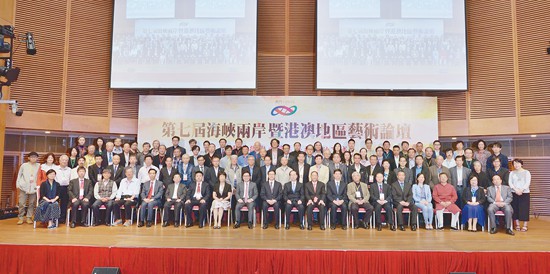 Opening Ceremony of the 7th Chinese Art Forum of Mainland, Hong Kong, Macao and Taiwan
The aesthetic spirit in Chinese culture is never confined to a certain pattern, as it can be integration of human and nature with social commitment or moderate beauty in perfect combination of formality and spirit. As is stressed in President Xi Jinping's talk in Beijing Forum of Literature and Arts, "the pursuit of the truth, good and beauty is the everlasting value in literature and arts", which, as a matter of fact, is the core essence of aesthetic spirit in Chinese culture. The truth involves all the authentic aspects in feelings, ideal, scenery and vision; the good represents positive comments in morality while the beauty provides a pleasant enjoyment as a carrier of the truth and good.
Then, what is the function of plastic art in the core of brush and ink art in the formation of Chinese aesthetic spirit? How can we carry out thinking and practice concerning Chinese aesthetic spirit beyond local and cultural difference? From November 1 till 2, the 7th Chinese Art Forum of Mainland, Hong Kong, Macao and Taiwan (CAF), sponsored by CFLAC and Macao Foundation, took place in Macao, where over 80 calligraphers, photographers, painters and related experts from mainland, Taiwan, Hong Kong and Macao gathered to conduct an in-depth exchange under the theme of "Plastic Arts and Formation of Chinese Aesthetic Spirits". In the light of the current situation of cultural exchange and development between the four regions of China, participants discussed such topics as connotation, formation and establishment of Chinese aesthetic spirit and made a significant contribution to the future prosperity of Chinese culture and arts.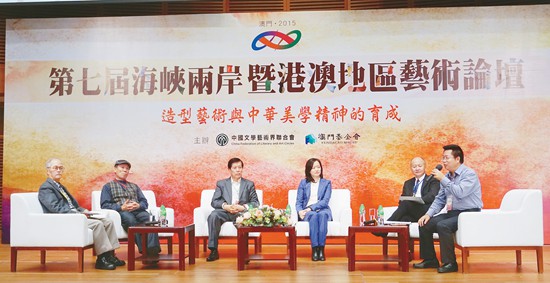 Roundtable talk
Zuo Zhongyi, vice president of CFLAC, Sun Da, deputy director general of Liaison Office of Central Government in Macao SAR, Dong Zhanshun, director general of Hong Kong, Macao and Taiwan Affairs Office of CFLAC, Pang Jingjun, director general of Theoretic Research Department of CFLAC, Wu Zhiliang, president of Administration Committee of Macao Foundation and related personnel from CFLAC, Hong Kong and Macao Affairs Office of the State Council, Taiwan Affairs Office of the State Council, Liaion Office of Central Government in Hong Kong SAR, Hong Kong Arts Development Council attended the forum.
'We are facing a significant revolution and development in the global complex structure and profound exchange and impact between various thoughts and witnessing a great change in artistic creation and dissemination in the current period of Internet and Informationization. We need to find ways to hold fast to our Chinese cultural position and inherit Chinese cultural gene in such a complicated circumstance as a pious believer and practitioner of Chinese culture; we need to find ways to realize creative transformation and original development on the basis of inheritance so as to demonstrate Chinese aesthetic style in a better manner and preserve the vigorous vitality of Chinese culture; while absorbing foreign advantage and drawing reference from the global excellent cultural achievement, we need to enrich our own culture during the positive interaction with the outside world; we need to explore those upright and virtuous nutrition in Chinese aesthetics for bringing out highlights of aesthetic essence and showcasing the considerable power in thinking, humanism and morality of Chinese aesthetics; such questions as how to promote Chinese culture onto the global arena and how to safeguard persity of world culture, promote progress and prosperity of human civilization and make a contribution to establishing human community are well worth pondering and exploring, and provide extensive possibilities for Chinese artists to bring their artistic talents, creativity and knowledge into full play," Zuo Zhongyi said in his speech at the opening ceremony.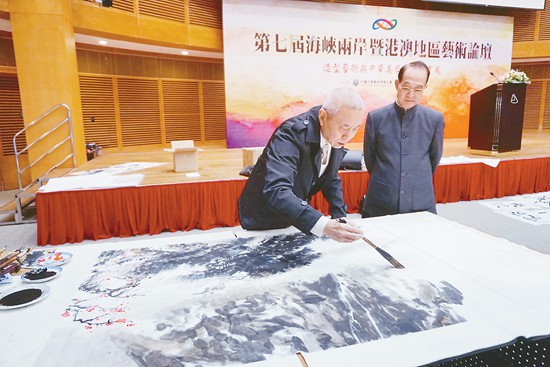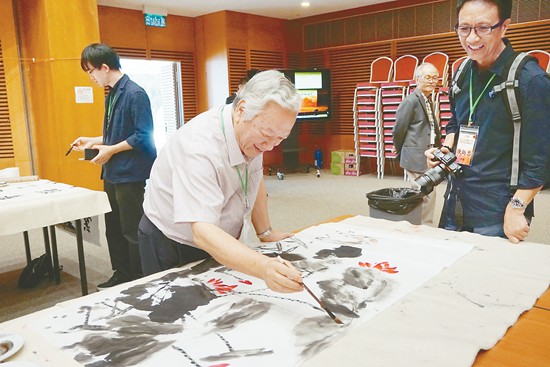 Exchange Improvisation
Macao has been serving as an important platform for a dialogue between the mainland and the West and making a positive contribution to the showcase of Chinese culture in the global arena. As far as Wu Zhiliang is concerned, this gathering of experts and scholars from the four regions of China will accumulate the maximum wisdom under a certain topic, better friendship and cooperation with each other, strengthen the influence and competitiveness of Chinese culture in the world structure and make it possible to jointly compose a new chapter.
Immediately after the opening ceremony, Chen Chuanxi, Zheng Xiaohua, Suo Jiulin, Chan Suet Yi, Miao Pengfei, Sun Jiangtao and Chiang Ming-shyan, as experts in fine arts, calligraphy and photography from the four regions of China, illustrated their respective presentations, namely, The Actual Position of Chinese Calligraphy and Painting in the World Arts, Calligraphy and Establishment of Chinese Aesthetic Visual Culture, Common Artistic Senses in Chinese Culture: Flying Wings for Photographic Creation, The Necessity of Promoting Chinese Culture in Hong Kong, Blind Spot of Current Culture and Chinese Culture, Image Aesthetics and Connotation in Traditional Chinese Painting of Shanshui and New Initiative of Ink and Brush Doctor's Practice in Taiwan. Those artists' inspiring expressions, excellent contents, abundant examples and exquisite PPT made their academic speech interesting to ordinary audiences who even made a note or recorded full speech. When an expert finished his or her presentation, a warm applause would invariably occur.
Paintings, scripts and pictures are the very artistic approaches that artists of each domain convey their feelings and present the essence of Chinese culture. In the wake of experts' keynote speech, sub-forums of respective artistry were set up so as for every and each artist to elaborate his or her own viewpoints concerning a specific art. In the sub- forum of fine arts, such topics as inner beauty of fine arts shape, art education and expression of Chinese spirit in fine art works have become the focus. Cheng Dali, an artist from mainland, said, "The key point of ink and brush spirit is inner beauty, and ink and brush culture is a plastic art in Chinese aesthetics. Sharing some similarities with plastic art, it has its own difference. While plastic art highlights personality, Chinese ink and brush culture emphasizes eternal heart and rhyme of sagacity with its core of self-purification and social edification". Zhang Zexun, an artist from Macao, uttered his opinion concerning the current situation of fine arts education in Macao, "Comparatively speaking, Macao attaches importance to applied disciplines such as design, but is still lacking in proper arrangement of Chinese culture and disciplines of arts. In many colleges, design course is available while calligraphy or fine arts are still absent. In such a special historic circumstance as Hong Kong and Macao, it is extremely crucial to establish art education to enable students to know more about Chinese culture". Li Bing, an artist from mainland, also held that education that develops Chinese aesthetic spirit is the basis and creation and innovation are necessary productive forces. "Education plays an important role in the inheritance coming down from generation to generation. Our creation is supposed to reflect the outlook and temperament of the current age and live in concord with the current aesthetics. In the meanwhile, a new stimulation system shall be established in the whole society." he concluded.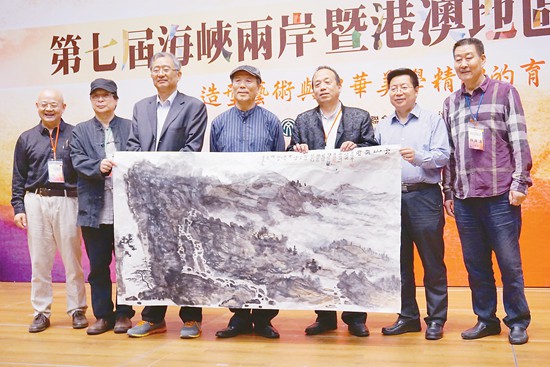 Group Photo of Participants and Artists with their Artworks in Co-production
In the sub-forum of calligraphy, participants expressed their varied opinion concerning the dissemination of calligraphic art. Lei Shaohua, a calligrapher from Hong Kong, believed that publicity of calligraphic art depends mainly on nongovernmental organizations. "Currently, there are so many strange things in Hong Kong that local youngsters have hardly any sense of belonging for Chinese culture and even some denied their Chinese identity. The urgent task is to arouse young people's interest in traditional culture. More societies of calligraphy with exhibitions at a regular basis will provide more opportunities for them to get in touch with or know more about traditional culture". Chu Gejin from Macao expected to take Internet as a way to accelerate dissemination of calligraphic art. "In this digital period, such a cost-effective media with bite signals as carrier will have a more extensive coverage. Though people who like to read become quite few, calligraphy, as a matter of fact, is indeed a pattern. In the background of audio-video mainstream, calligraphic art will be more easily spread and accepted." As to Zeng Laide, a calligrapher from mainland, calligraphy is never equal to writing. "We never require everyone to become an expert in calligraphy. Actually, we expect the improvement of writing style as an art as Chinese characters are carriers of Chinese culture. Since a character will convey different meanings in different sentences or lines, this character is supposed to occur in different calligraphic styles. In the course of calligraphy learning, poetry and prose writing shall be included as necessary training for self-accomplishment and self-cultivation." he explained.
The experts and scholars in the photographic circle noted that the popularity of mobile capturing and the occurrence of all-people photography period have posed challenge and opportunity for photographers and photographic art. Wu Liancheng, a photographer from Hong Kong, advocated that contemporary technology must be admitted and adopted in an active manner so that ordinary people will be encouraged to foster their interest in camera into a hobby and then up to the level of professional training and research. Through the lens of ordinary amateurs and varied media, the beauty and charm of Chinese culture will be fully manifested to the entire world. Suo Jiulin, a photographer from mainland, held that Chinese photographers bear a significant responsibility to utter Chinese voices in the international arena. "China has the most photographers among all the countries in the world. Annually, there will be over 100 events sponsored by China Photographers Association and the total investment in the photography will top any other country. Therefore, we have reasons to look forward to more artists with sufficient technique, concept and promising future in photographic art." he said in excitement.
During the roundtable talk on November 2, such experts and scholars as Li Bing, Cheng Dali, Pedro Tseng, Kwok Homun, Zhong Yi and Kuok Keng Mam had a discussion about Responsibility and Liability of Chinese Aesthetic Spirit for the World Civilization. Though such discussion seemed to be endless, they unanimously mentioned that Chinese aesthetic spirit presents reflection of nature and enlightenment about life with living consciousness and poetic romance, stresses on harmonious inclusiveness of subject and object, and highlights integration between human, nature and society. As far as all those participants were concerned, Chinese aesthetic spirit, in favor of benevolence, integrity, harmony and consensus, can transform society as well as guide artistic creation. Its presence at international arena will promote traditional Chinese culture abroad, help improve the spiritual realm, ethic sentiment and self-cultivation, and advocate and maintain an excellent kind of values in accordance with peaceful development of mankind. In this respect, all the four regions of China have their own advantages. In history, the cultural and artistic connection between Taiwan and Japan, between Hong Kong and UK and between Macao and Portugal will serve as a sound bridge between traditional Chinese culture and the Western civilization. As to the mainland, the Nobel Prize winner Mo Yan, who absorbed elements from Magic Realism of Latin America and reproduced his Chinese stories, has become a successful example. As artists are quite a perfect media for publicity, priority shall be offered for their better creation without anxiety in regard to the future.
In the exchange improvisation after the closing ceremony, calligraphers and painters observed each other's artistry and technique, and enhanced mutual understanding led to a cordial friendship. As a souvenir for this art forum, calligraphers jointly composed such scripts as Elegant Exchange in Character Literature and Harmony Vessel in World Voyage to express appreciation for one another. By co-production of a landscape painting, Chinese painters demonstrated their common love for magnificent landscape of motherland by means of ink, brush and paper.