the 7th Beijing International Art Biennale:The Silk Road and World Civilizations
Visual Feast of Over 100 Countries: Everlasting Silk Road Spirits in Fine Arts
—Overview of the 7th BIAB in 2017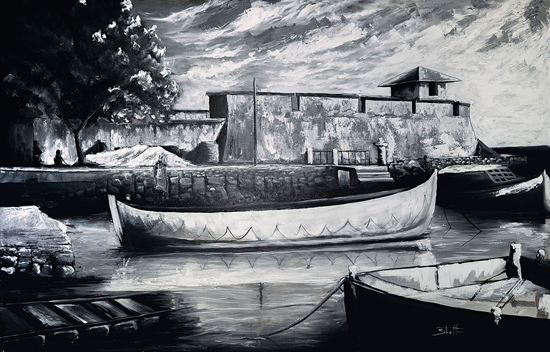 History Within My Eyes(Acrylic on Canvas)by Shaffan Ahmed
It was in September of the year 2002, 15 years ago and also here in NAMOC that the first Beijing International Art Biennale (BIAB) was presented to the world. In the past 15 years, BIAB has achieved an outstanding result in the focus of Chinese people and the people all over the world. As its initiator and undertaker in the process, I have witnessed its development and growth." Liu Dawei, president of China Artists Association (CAA) reviewed BIAB at the opening ceremony of the 7th BIAB. This year is the 15th anniversary of BIAB. 15 years mean a gradual growth of nearly 5500 days for BIAB, an event under the mechanism of two-year frequency while this period is only a short instant in the stream of history. From September 24 till October 15, the 7th BIAB, jointly sponsored by CFLAC, Beijing Municipality and CAA, with the theme of "The Silk Road and World Civilizations", was held at NAMOC in Beijing. Consisting of 601 artworks by 567 artists from 102 countries of five continents, including 190 artworks from China and 411 artworks from abroad, this exhibition marked a significant milestone in its 15 years of evolution, with extensive coverage of contemporary painting, sculpture, installation, video and other multi-medias.
Magnificent Chapter of Visual Arts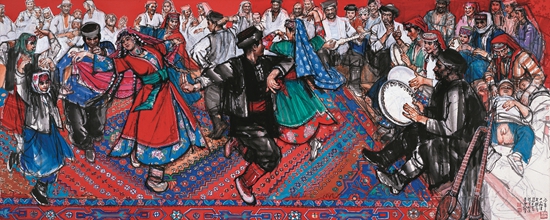 Pamir Revisited (Ink and Color on Paper) by SHI Guoliang
Over 600 artworks with varied styles have highlighted an unprecedented worldwide passion in echoing the theme "The Silk Road and World Civilization" of this BIAB. For the first time in BIAB's history, the total number of its participant countries has surpassed 100 and BIAB has become the first fine art exhibition that affracts over 100 participant countries in the world so far, both of which indicate an increasing international reputation, influence and attraction of BIAB. For the first time, Central Africa, Guinea, Honduras, Malpes, Palestine, Panama, Seychelles, Tanzania and Yemen became the participant countries of BIAB. "In the autumn of 2013, Chinese President Xi Jinping, through his observation of the trend of global development and in accordance with the tide of international cooperation, put forward the initiative of establishing the 'Silk Road' economic belt and 21st Century Maritime Silk Road, i.e., 'B&R' Initiative. In the past 4 years, gaining active support and extensive participation from over 100 countries and international organizations, this initiative has gradually become concrete action in the reality with well-seen achievements. In this May, 'B&R' International Cooperation Summit was successfully held in Beijing where distinguished guests from more than 100 countries gathered to discuss future development plans in an unprecedented way and with fruitful concensus." LI Yi, executive vice president of CFLAC expressed, "The Silk Road Spirit will provide a more solid foundation and a more spacious platform for BIAB with powerful vitality, inclusiveness and reflectior of the times".
Among the first to comprehend the essence of the "B&R" Initiative, Chinese artists have given a brilliant reply to the theme "The Silk Road and World Civilizations" with works extensive in subjects, perse in forms and varied in techniques. "Under the brush of Chinese artists, be it a bright moon high above the ancient path vibrating with the sound of Sanskrit, or medical aid teams to Africa; be it the mystic Lamp Festival and Shehuo (a kind of folk performance during the Spring Festival) in Kushui County, or micro-life in today's metropolises; be it "unfettered" and "symbiosis", or high-speed trains across Eurasia; be it a compass, or a panorama of Maritime Silk Road, all tell the story of mutual exchange and common development as witnessed by the Silk Road, the most ancient and long-drawn road in the world. On the site of these works, the charm of ancient path intertwines with the vigor of the age, which generates a tempting aroma permeating into the sky of history, and then into people's hearts like a fresh wind. In comparison to traditional techniques of representation, it seems that the artists prefer to frame their works with cultural codes so that the overflowing symbols, metaphors and allegories may draw their audience into a realm of meditation and reverie where the Silk Road is turned into a profound national epic, and the inherent truths of the Silk Road unveil themselves one by one. In the remote Nomadic Age, the Chinese nation had already become the founder of international order, when the trials and tribulations as well as achievements and honors by and by molded a pioneering spirit and tenacious character in the Chinese people. It is on this basis that the Belt and Road Initiative is drawn, with steady and promising progress." ZHANG Xiaoling, a domestic curator of BIAB commented.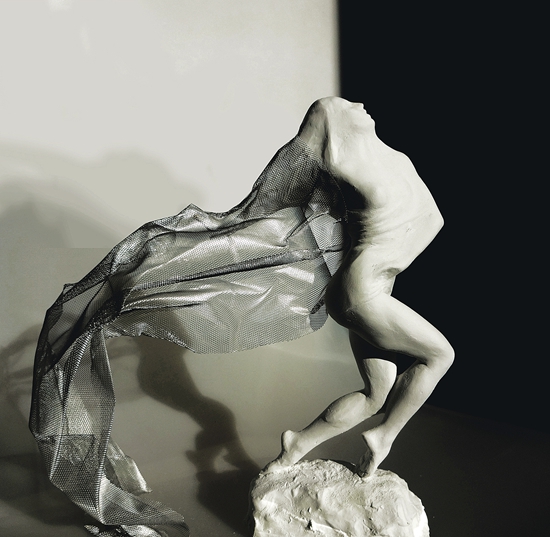 Dancer of the Silk Road (Sculpture) by Tatiana Mitra
What should be mentioned in particular was that the organizing committee this BIAB gathered some Chinese artists to complete two giant theme artworks within a limited time in order to make up for the possible vacancy of the large-scale "B&R" artworks. One is a 6-meter-long traditional Chinese painting A New Chapter of the Maritime Silk Road by ZHENG Baizhong and the other is a 8-meter-long joint production The New Chapter of the Silk Road by FENG Lumin and other three Chinese artists.
As for the participant artworks by foreign artists, their gala of excellent works has constituted a dazzling chapter of visual arts as well. Some are large-scale paintings with either magnificent landscapes of cultural sanctuaries in connection of the Silk Road or a unified atmosphere of integration and expansion in abstract presentation while others are tiny sketches of either romantic expressions or filmy beauty filled with poetic aftertaste. "Some artists employ a method similar to Montage which patch and put together the Eastern and Western backgrounds, sages or cultural symbols to strike their audience with a sense of vagueness and realness. Some remake classic pictures with slight embellishments for legendary effects. This BIAB shows many commendable points of artists in their selection and polishing of artistic languages. There are not only coexistence of realism and abstraction, but also meaningful attempts at symbolism, collage, cross-category fusion and those beyond the scope of easel art, including bold absorption of artistic and cultural elements of China." DING Ning, a domestic curator of BIAB uttered. Those artworks from such turbulent countries along this ancient Silk Road as Yemen, Syria and Iraq are immersed with longing, expectation and dream for a peaceful development in the spirits of the Silk Road, which has deeply touched Chinese audiences.
In terms of manifold artistic expressions, a marked feature of the works on show is a mixture of realistic and romantic styles and coexistence of integration and difference. "Foreign works in previous BIABs inclined to be romantic and full of imagination, while domestic works in general tended to be realistic and comparatively lacking in imagination and romantic sense. In the 7th BIAB, there are more realistic depictions found in romantic foreign works, and more romantic elements in realistic domestic works. In other words, works both at home and abroad show a mixture of realistic and romantic styles, only the emphases differ. Compared to works in previous BIABs, foreign works in this BIAB have taken in more Chinese elements, and Chinese works more foreign ones. There is inclination of convergence. In the meantime, each retains its distinct local features and traditions. In between the tendencies of seeking common grounds and reserving differences has formed a huge space of development which has aroused artists' imagination as inspiration for their artistic creation." WANG Yong, a domestic curator of BIAB concluded.
A Powerful Engine of Fine Arts

The Water of Yellow River Comes from Heaven—Impression of Hukou Waterfall (Oil on Canvas) by YAN Juntai
Besides the theme exhibition, six special exhibitions, namely the "Special Exhibition of Contemporary Art of Georgia", the "Special Exhibition of Contemporary Art of Greece", the "Special Exhibition of Contemporary Art of Indonesia", the "Special Exhibition of contemporary Art of Mongolia", the "Tour of Art from Tintoretto to Lilanga" and the "Special Exhibition of Donated Artworks from Previous BIABs", took place as scheduled. Brilliant masterpieces by Tintoretto and Dali, outstanding artworks by nearly 100 artists from Georgia, Greece, Indonesia and Mongolia as well as selected dozens of works among more than 500 donated pieces enabled the audiences to appreciate excellent chapters in the history of BIAB in all sessions.
"The spirits and subjects of the Silk Road have aroused enormous imagination and aesthetic inspiration that unceasingly evolves into artists' practice of novel formality and language in arts. Moreover, the tendency of seeking common grounds and reserving differences is a huge space of development which gives rise to a splendid scene where the Eastern and Western arts integrate but each is unique on its own. It is safe to say that the works on exhibition themselves are the outcome of exchange and mutual learning among world civilizations, and that they are artistic expressions of the Eastern and Western civilizations in their mutual exchange and convergence on the theme of the Silk Road," LIU Dawei commented. As Xenia Benivolski, an international curator of BIAB from Canada, held, the core of 'The Silk Road and World Civilizations" is the connection of the East and the West and thus by Silk Road we should focus on communications and mutual exchanges under the prerequisite of reciprocal focus and benefit as non-colonial communication. As the historical and current situations of the Silk Road always involve plentiful interesting topics, those in-depth stories of international friendship, national communication and cultural integration in the process of mutual negotiation, construction and sharing between the countries along the Silk Road can be painted in artworks. "Compared to the traditional representation approach, the participant artists in this BIAB seem to prefer to take the theme as a cultural token in their creations instead of mourning for the days of yore. The spirits and subjects of the Silk Road have aroused enormous imagination and aesthetic inspiration that unceasingly evolves into artists' practice of novel formality and language in arts. The implication from the subsequent symbolism, metaphor and fable has brought the audience into boundless imagination where the Silk Road has become a giant and profound epic with narrations of its spirits one after another," TAO Qin, a domestic curator of BIAB and deputy secretary general of CAA remarked.
For the audiences' convenience, this BIAB designed some considerate details in particular such as size expansion of exhibits tags and Chinese-English captions for each exhibit. Moreover, some images of landscape, transportation such as camels along the Silk Road were printed on the covers of chairs in the rest area so that audiences could have a magic touch and interaction with those typical Silk Road expressions. In the meanwhile, an interesting game of "BIAB in My Eyes", i. e, postal card made of mini photos, was created so that audiences could make an international postal card with the pictures they took in the venue of BIAB and send it worldwide, including "B&R" countries, so as to share BIAB with their remote friends.
"We gather today to showcase and communicate to our utmost while we bid goodbye tomorrow full of joy and friendship." LI Yi, executive vice president of CFLAC concluded. Indeed, it has become an invariably touching scene of those 7 editions of BIAB in the past 15 years. As an institutionalized event, only continuity in BIAB is a true victory. It is only the legendary continuity of over a century that has endowed Venice Biennale with unparalleled power in discourse and choice in the global art arena. As XU Li, executive vice president and secretary general of CAA introduced, artists from such European and American countries as USA and France have become the majority among participants of the recent sessions of BIAB and therefore the influence of BIAB has reached the developed countries in the West as well as the developing countries. As acclaimed by some media, BIAB has evolved into a powerful engine that will enable artistic appeal to transcend time and boundary, and cause great change, in the fine arts layout of China and even the world. As Chinese aesthetics, among varied civilizations around the world, stress on artistic persity as well as respect and harmony. its unique influence will continuously function in the ongoing process of BIAB. Having traveled since the ancient period of nomadism, undergone the hardship and toil all along the Silk Road, and enjoyed achievement and glory, Chinese people have established their own enterprising spirit and character of perseverance, and realized the common desire for friendship and mutual communications. On such a basis, "B&R" Initiative will witness a stable and sustainable development in connection with our common destiny community.