The 6th Beijing International Art Biennale:Memory and Dream
Historic Reflection in Memory and Miracle Creation in Dream
——the 6th BIAB Themed "Memory and Dream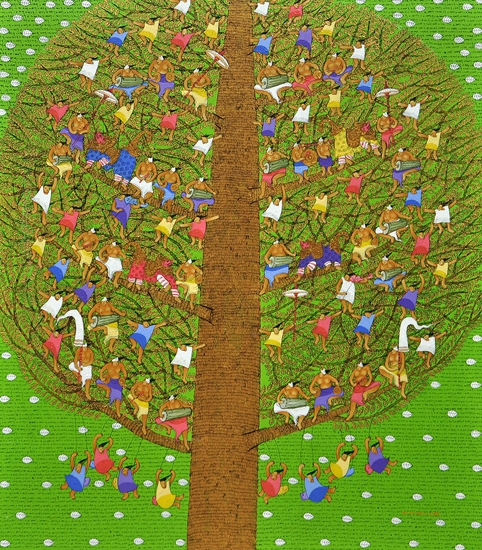 The Tree of Life by I Made Gunawan(Indonesia)
Autumn in Beijing is supposed to be the best season, while the best scenery in this golden autumn in Beijing in 2015 ought to be the 6th Beijing International Art Biennale (BIAB). From September 24 till October 15, the 6th BIAB, jointly sponsored by CFLAC, Beijing Municipality and China Artists Association (CAA), was held in National Art Museum of China (NAMOC). 685 participant pieces from 96 countries (188 domestic pieces and 497 pieces from abroad) involved contemporary painting, sculpture, installation, video and comprehensive arts. In addition to the theme exhibition, there were six special contemporary art exhibitions from Canada, Chile, Ecuador, Southeast Asia, Armenia and South Africa. With unprecedented numbers of participant countries and works, exhibition length and period in this session, this BIAB occupied the entire dimensions of NAMOC for the first time.
Over Half of UN Members Involved in the Theme of "Memory and Dream"
At the doorstep by Nguyen Duc Viet (Vietnam)
In accordance with Chinese diplomacy, foreign publicity and core ideal of domestic cultural construction, the 6th BIAB particularly adopted the theme of "Memory and Dream" to encourage artists all over the world to create artworks about global memory and human dream in the main form of contemporary painting and sculpture. The theme "Memory and Dream" is an artistic interpretation and highlight of the 70th anniversary of the Victory of World Anti-Fascist War, the most significant international event of 2015. As outcome of history and present and linkage of past and future, memory and dream are best representation of artists' humanist solicitude. Artists' passion for creation is aroused and their aesthetic imagination will be brought into full play so that lots of artworks as deep as memory and as wonderful as dream will take shape.
Memory is the inscription of the human mind. With the historical and cultural achievements, this event is a treasure trove of contemplation and this space for art breathes new life into memories. In the ideals of mankind, the hopes to eliminate disasters, the visions for happiness and the goals for untiring struggle contain the significance of dreams. Each nation in the world has its own memories and dreams. Thereunto, historical and cultural memory counts most and the world and social ideals stand most important. It is memory that distinguishes the history and fuels the shaping of the characteristics of culture; it is the dream that enriches the meaning of life and drives social development. The Chinese people share long, rich and precious historical and cultural memories with other nations. It is through these historical and cultural memories that we can communicate with each other and share the unique spiritual experiences of different nations. It is the unanimous objective and sublime ideal of modern human society to materialize the "Chinese Dream" of the Chinese people for rejuvenation and the "World Dream" for peaceful development and win-win cooperation for all people. It can inspire our vitality to usher in the future and create miracles. Memory describes the past while dreams depict the future. Memory and dreams agglomerate the history and the reality and link the past and the future. The artists record both history and the dream of the future. "Memory and Dream", the theme can fully convey the care of modern artists, stimulate their creative passions, give scope to their aesthetic imagination, unscrew their memory at the bottom of their soul and excavate the space for their artistic dreams so as to create the artistic works as profound as memory and as miraculous as dream. An Italian friend interpreted the theme of "Memory and Dream" of BIAB as "Both Italy and China have a fairly long history. Memory means as equally important as dream for future to us. This theme is exceedingly good for the exchanges between the artists and between others".
Upon issuing of the BIAB theme, many artists in various countries gave a positive feedback and took an active part in theme creation. Statistics show that 6650 artists from 106 countries and regions (including China) submitted 18386 pieces of candidate works in an unprecedented scale. In particular, artists from China (including Hong Kong, Macao and Taiwan), USA, France, Egypt, India, Indonesia, Greece and Romania constituted the most active part. After a severe and fierce competition, in the end 605 artists from 96 countries obtained precious admissions, which set another world record in the history of BIAB. The theme creation of participant artists, foreign artists in particular, accounted for above 90% of the total.
New Media Technology Enhanced Interaction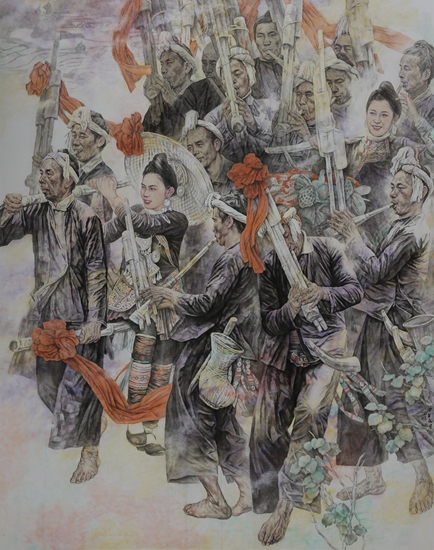 Spring in Basha by Li Guozhu (China)
In order to create a fine social atmosphere for the opening ceremony, this BIAB specially designed LED Public Advertisement respectively in the Terminal 3 of Beijing Capital Airport and Times Square in New York City so that all the artists and visitors abroad, including foreign citizens miles away, could learn about the opening of the 6th BIAB immediately. In this way, more and more global attention is directed onto the 6th BIAB.
Moreover, this BIAB created an interesting interaction part "My Date with 'Memory and Dream'", postal card of mini photos in NAMOC before and after the opening ceremony. With a feedback concerning BIAB filled in, any audience's photo with his or her favorite exhibit taken by his or her mobile phone will be printed as an international postal card free of charge, which can be sent worldwide immediately so as to realize instant sharing and memory with global friends in advantage of convenient Internet and international post.
To make it possible for audiences to review exhibits in their mobile phone, the organizing committee of this BIAB made some QR Codes of part of exhibits along with their captions. Taking a swipe of those QR codes, audiences will take them back home for further appreciation. By means of mobile Internet technology, mobile micro-website or webpage will display introductions, exhibits and live video of BIAB so that netizen from all walks of life will easily access to NAMOC as well as BIAB.
More importantly, all the captions and notes of the album of this BIAB are equipped with a bilingual (Chinese and English) works appreciation according to authors so that audiences or readers both at home and abroad understand the background and concept of artistic creation in a better way, which is a shining point of the details of curatorship and editorship of BIAB.
Highlight Inpiduality of Painting and Sculpture
Ever since 2003 when BIAB was initiated, BIAB always hold the display of contemporary extension of global contemporary painting and sculpture as its mission and has established a different way and rule of biennale from any other in the world. With a worldwide recognition, reputation and respect among artists, BIAB has become not only the cultural and art brand of Beijing and China, but also the largest platform for exhibiting painting and sculpture in the current world. More than 200 artists all over the world come to Beijing to attend the opening ceremony or academic symposium of BIAB and over half of them will come to Beijing or China for the first time in their life. Despite differences in languages, colors and religions, those artists bear the same kind of love, dream and expectation of painting and sculpture as art. They come not only to view nearly 700 pieces of paintings and sculptures in NAMOC as exchange and observation of their counterparts over the barrier of language, but also to experience Beijing, China and Chinese people on the spot as if in a live demonstration of painting and sculpture so as to build their direct, lively and specific impression of China. At the request of artists in previous sessions and in order to facilitate artists from different countries to view all the artworks in a sufficient time, this BIAB specially arranged encore visit for all the participant artists.
To restore BIAB after its ending, on October 14, "3D Digital BIAB at Digital Art Museum of China", jointly sponsored by CAA and Literary and Art Resources Center of CFLAC, was launched in the Internet, which made the 6th BIAB an "everlasting exhibition", and brought unusual virtual experience to all the netizens. This effort not only makes up for many fans' regret not to view the exhibition on the spot, but also enables many people to continually appreciate BIAB online in the wake of actual exhibition.
Yangzhou Experience of Poetic Beauty
Slender West Lake in Yangzhou city is as beautiful as a perfect painting where romance prevails in various pavilions accompanied by ripples in the stream and branches of willow and peach. In the course of the 6th BIAB, a group of artists from China, Belarus, Lithuania, Ukraine, Estonia, Armenia, India, Indonesia, Bangladesh and Mongolia arrived there. In commemoration of the 2500th anniversary of founding of Yangzhou, at the invitation of Urban Celebration Office, Youth League, Federation of Literary and Art Circles, Cultural Creation and Research Academy of Yang Zhou Municipality, CAA selected over ten representatives from "B&R" countries, together with many Chinese artists, to participate in "2015 World Artists' Sketches on Yangzhou by CAA". During the four days of this event, the group visited many places of ancient interest, watched traditional performance and created plenty of sketches. With their inks and brushes, they made a perfect scroll of natural scenery, humanist culture and vivid affection in Yangzhou as a souvenir of harmonious exchange between artists of China and the world.
While appreciating delicacy and scenery, foreign artists had so many exclamations all the way. The restrained elegance and particular charm of Yangzhou ignited their passion for creation in heart. The beauty of waterside village in South China represented by Yangzhou brought artists to feel the unique natural scene and profound cultural deposit and get in touch with the most typical memory of Chinese characters. As Liu Dawei, president of CAA, held, since ancient times, Yangzhou has always been regarded as the center for cultural creation and exchange in China. The well-known "8 Strange Talents in Yangzhou" were an outstanding group in traditional Chinese painting history and their numerous masterpieces popular among every household occupy a significant position in China's cultural history. As Tao Qin, deputy secretary general of CAA, pointed out, as the theme of this BIAB is "Memory and Dream", Yangzhou is just a city full of national memory and future dreams.
Taking BIAB as an opportunity, CAA invited part of artists both at home and abroad to Yangzhou for an inspiration journey, which not only echoed the concepts of "B&R" Initiative and "Destiny Community" in national strategy, but also helped foreign artists to tell their "Chinese stories" and experience about the magic of "Chinese dream". While enhancing mutual understanding, reference and exchange in fine art circles, this event will help accumulate creation materials for the exhibition "China in Foreign Artists' Eyes" to be held next year. As Gryte Pintukaite, an artist from Lithuania, expressed, she had hardly knowledge about China and had never been to other cities in China. However, her trip to China enabled her to learn more about long history and excellent cultural tradition of China and then a more clear image of China. She will tell all that she has viewed and heard in China to all the people around so as to arouse more people's interest in China's history and culture.